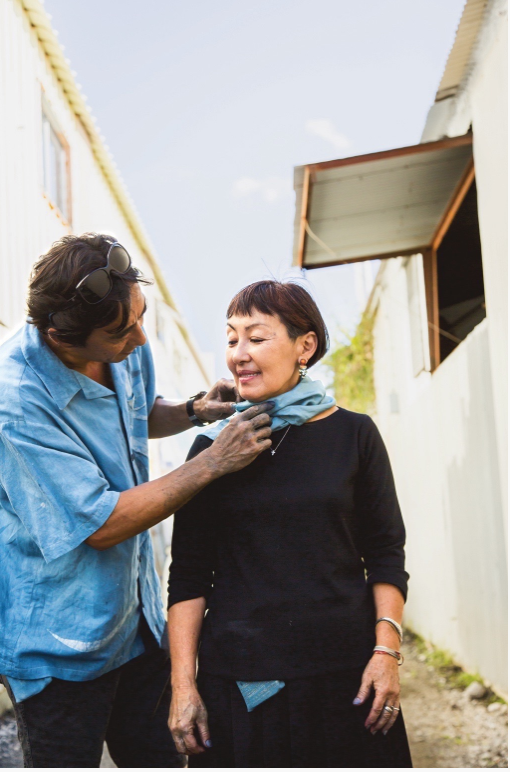 OluKai's Hawaiian Blue small-batch shoe collection is 100 percent unique due to being hand crafted and hand-dyed with indigo plants grown in Hawaii.
—•—
OluKai partnered with Hawaiian Blue artists Donna Miyashiro and Tokunari Fujibayashi, pictured left, creators of Hawaiian Blue, to create beautiful indigo fabric, which is the centerpiece of the OluKai limited edition release.
"Working with Donna and Tokunari has been an awesome experience. Creating the hand-dyed fabric with the Hawaiian Blue team ensures that we're delivering a truly one-of-a-kind pair of shoes, and creating product that really is made of Hawaii." —  Blaine Conrad, vice president of product, OluKai
The shoes, lead photo, are created in a closed-loop, sustainable system in which the artists plant and grow the indigo, and then harvest the plant to create the dye. It takes two months from seed to first harvest.
The leaves are soaked in water to ferment for 24 hours; an iridescent sheen forms on the surface, and the leaves are removed and the liquid is stirred and oxidized until it turns dark blue in color.
The liquid is then poured into a flat-bottomed container to allow the indigo paste to settle; the liquid is skimmed off the top until only the paste remains. The resulting paste can then be used to dye fabric. The process of dying all of the fabric needed for the OluKai Hawaiian Blue collection took nine months.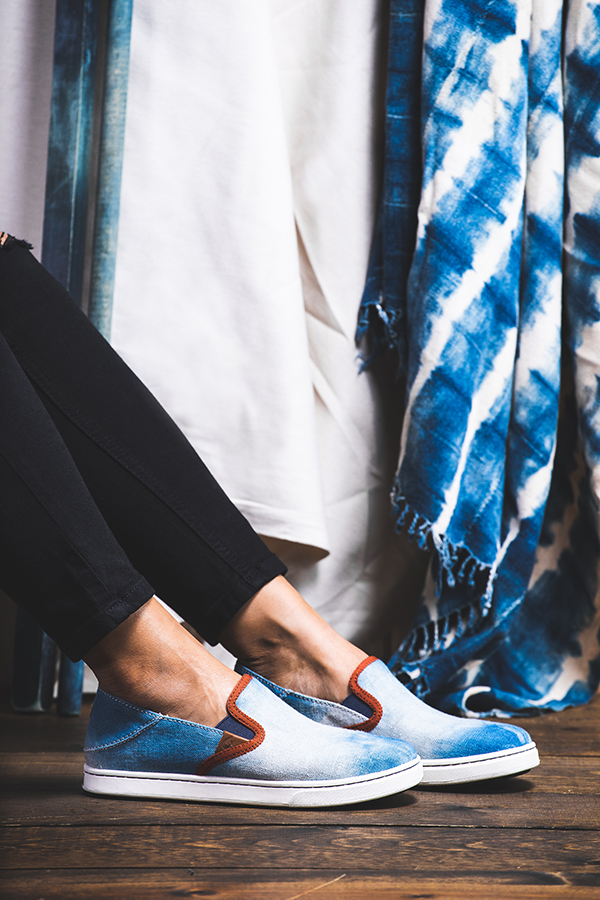 "The process of dyeing the fabric with the Indigo is mesmerizing. To see it emerge as a yellowish green and transform into a beautiful hue similar to a twilight sky is an experience that personally never ceases to amaze."— Donna Miyashiro, artist, Hawaiian Blue.
OluKai discovered the Hawaiian Blue artists through the brand's ongoing partnership with Pow! Wow! and connected with them through the artist community in Kaha'ako, Oahu. OluKai was drawn to the fabric because the shades of blue reflect the different hues of the Pacific Ocean, aligning with the OluKai's "Anywhere Aloha" mantra.
Hawaiian Blue is exclusive to OluKai, with 500 pairs available in the women's Pehuea shoe style and 200 shoes available in the men's Kahu style.
For more information, or to order a pair of Hawaiian Blue, visit here.
Photos courtesy OluKai