Two things John Connelly, president and founder of Oboz, wants people to know with the pending sale of his company to Kathmandu, the New Zealand-retailer, is first, nothing much will change. Second, he has no plans to retire.
"I'm going to be here to run Oboz for a while," said Connelly in an interview with SGB Executive. "I still love it. We have great people here on the team and great customers."
On March 20, Kathmandu said it agreed to acquire Oboz, based in Bozeman, MO, for a base cash consideration of U.S. $60 million and earn-out of up to $15 million. The earn-out is subject to Oboz achieving financial milestones in 2018. The purchase is expected to close in April.
Still, having recently turned 71, Connelly said he has been thinking about the future of his outdoor footwear brand and "wanted to make sure the company was left in good hands."
He also founded Oboz in 2007 with the help of seed funding from two of his best friends from ninth grade, also near his age, and they realized a sale would be inevitable once the right partner was found.
"We had a number of people interested in us over the last couple of years, but the main thing for me was that I wanted to leave this company I have spent 11 years of my life building in the hands of someone I knew and trusted that they were going to be the right new owner for all our employees and customers. And they were going to basically 'keep Oboz being Oboz,' authentic and controlled distribution."
Connelly is confident he has found the "right partner" with Kathmandu, which has about 164 stores across Australia and New Zealand. Total sales in New Zealand were $445 million ($324 mm) last year.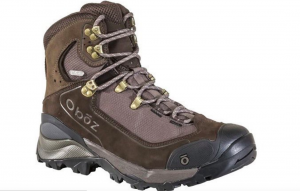 Connelly has known the retailer's management team years before Oboz' launch in 2007, having sold the Five Ten footwear line to the chain in the past. Said Connelly, "I'd been going to New Zealand for years and years and they'd come to Bozeman and stayed at my house. They've always felt like family."
But Kathmandu was also integral to launching Oboz. The brand was inspired by a casual conversation Connelly had at a 2007 Outdoor Retailer show with an REI representative that ended up with a commitment from REI to become Oboz's first customer. The next day, he met representatives from Kathmandu and they agreed to become his second customer.
But the first-ever Oboz shoe sold was at a Kathmandu store in Queenstown, New Zealand. Kathmandu currently is the exclusive retailer of Oboz in Australia and New Zealand.
For Oboz, Connelly expects working even closer with Kathmandu will provide his team with stronger retail insights, as well as extra resources to support innovation and its sustainability initiatives.
Oboz' core business has been in hiking, but the brand successfully expanded into insulated products a few years ago and its design team is working on further expanding Oboz' range.
 On the sustainability side, Oboz since its start has planted one tree for every pair of boots or shoes sold, and that has led to more than 1.3 million trees being planted. But as a small company, Oboz could devote only one person to its sustainability who could only do it as part of their job. Similar to REI in the U.S., Kathmandu is recognized as one of the leaders in sustainability in Australasia and is expected to boost Oboz' ability to tackle more programs.
"Clean energy, for example, is an area where they're pretty advanced in and they're always going to be looking to be at the top level at it so I think we'll benefit from that and we see that as a real positive," said Connelly.
Kathmandu is expected to be particularly helpful in supporting international growth for Oboz. Oboz will gain more shelf space inside Kathmandu's stores, but should also help in Oboz's fledgling efforts to gain a foothold in Europe and Asia. Oboz sells into the U.K. and a "couple of other shops in other parts of Europe." The brand also has a distributor in Japan and Taiwan and plans to start showing at ISPO China after showing at Friedrichshafen and Munich the past few years.
For Kathmandu, Oboz brings product development experience, sourcing and R&D capabilities, providing an opportunity to enhance Kathmandu's product offering in in footwear.
Oboz' team in Bozeman will also help launch Kathmandu's labels in the U.S. The majority of the retailer's sales are Kathmandu-branded products, with its range running from functional outdoor apparel to packs, sleeping, tents and camping accessories. About 60 percent of its mix is apparel, including its own footwear lines, and 40 percent equipment.
Connelly also stressed that although Kathmandu is a public company, and they won't "be looking to go out and blow up distribution" of Oboz." He said the Kathmandu team shares Oboz' commitment to controlled distribution and limited direct-to-consumer presence.
"Kathmandu is [a] relatively small company and they're not on the New York Stock Exchange by any means," said Connelly. "I just think we share so many values – passion for the outdoors, passion for the people and passion for product. And so that was all key to me in partnering with them."
Operationally, Connelly said Oboz has achieved a 38 percent CAGR (compound annual growth rate) since its start, and he doesn't expect any changes in the way Oboz services the marketplace.
"We've been doing business our way for ten years successfully and that includes a really strong focus on service with a lot of training and cliniquing," said Connelly. "And I think we need to keep doing what has made us successful. And that's been a focus on quality fit service. We're going to keep doing what we've been doing."
In its presentation to investors on its six-month results through January 31, Kathmandu noted that Oboz stands out for its strong appeal to hiking enthusiasts aided by three key attributes:
Authenticity: Oboz has a deep understanding of their target customer, its senior management team consists of outdoor enthusiasts with extensive experience in product design.
Quality: Products are known for high quality, fit and comfort. Every Oboz shoe includes a deluxe aftermarket O-Fit insole.
Corporate responsibility: Brand ethos of sustainability and environmental friendliness, with one tree planted for every pair of shoes sold.
Xavier Simonet, Kathmandu's CEO, said in statement: "The acquisition of Oboz enables the Kathmandu Group to accelerate our international growth, and diversifies our product mix, geography and channels to market."
He continued: "I admire the success of Oboz in North America. They are an innovative and authentic outdoor brand with deep roots in Montana, driven by a passionate and successful team. It seems very natural that after so many years of close collaboration we deepen our relationship."
In the half, net earnings rose 22.7 percent to $12.3 million ($8.9 mm). Sales improved 4.3 percent to $204.8 million ($149.2 mm).
Photos courtesy Oboz