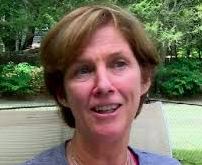 Duncan Finigan, global head of brand management and marketing at Oofos, died on May 26 after a lengthy battle with breast cancer. She was 59.
Finigan spent many years working in the footwear industry, notably with Reebok and Stride Rite. In her final years, after being hired as its first employee, she helped guide the launch of Oofos, the recovery footwear company. She was global head of brand management and marketing.
Finigan began her career in 1984 at Reebok International as a marketing intern upon graduation from Boston College. In her 16-year career at Reebok, she led brand and marketing initiatives for nine footwear categories, eventually being named VP of the performance division.
After leaving Reebok, positions included VP of brands, Atsco Footwear Group; general manager, wholesale, Stride Rite Children's Group; and VP, business unit & marketing, Dorel Industries, before joining Oofos in 2011.
She is survived by her husband, Tom, and their four sons, Alec, Cavan, Duncan, and Will, her brothers, Dr. Daniel Driscoll and his wife Elaine of Milton, Terence Driscoll and his wife Peggy of Milton, Mark Driscoll and his wife Tracy of Dedham, and her sisters, Dina Nichols and her husband Jay of Shrewsbury, Betsy Goyette and her husband Robert of Milton, Deirdre Michelski and her husband Bob also of Milton, along with seventeen nieces and nephews.
The family asks that donations be made to Duncan's Pan Mass Challenge fund for the benefit of the Dana-Farber Cancer Institute, at 77 4th Avenue, Needham, MA 02494, for the account of Duncan Finigan, DF0219 or please visit https://donate.pmc.org/DF0219 For more information please go to www.dolanfuneral.com.
On Wednesday, former Reebok owner Paul Fireman sent this letter to company friends and family:
Dear Reebok Family,
Many of you had who have had the pleasure of working with Duncan Finigan have contacted me to share your thoughts about her. I thank you for making sure that I was brought up to speed of her passing. I will not be able to attend her services but wanted to share a few words…
She was one of our dearest and most treasured Reebok alumnus. We met up for coffee a few years ago and I was heartbroken to hear of her diagnosis. I remember when Duncan joined Reebok while still an undergrad at Boston College. She maintained her academic life while doing part time promo events for Reebok, which proved as one of the building blocks for our success in the early days of the company. I've often admired her quiet and sincere efforts in supporting the company's success. She worked so diligently and with timeless energy, while at the same time growing a beautiful family with her husband Tom.
Duncan left Reebok in pursuit of her entrepreneurial hopes and maintained a passion for footwear while working at Oofos, the popular and exciting new sandal product.
She traveled the world and developed an incredible reputation in both her expertise as well as her integrity.
She was an incredible fighter who spoke not of her illness but focused on providing much normalcy to her family and friends, who were everything to her.
I will miss her; her smile, her quiet confidence and her dignity. 
Warmest Regards,
Paul Fireman