With a 25.5% revenue growth in the third quarter,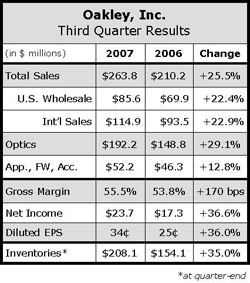 Oakley has now delivered seven straight quarters of high double-digit growth, with the last three quarters consecutively above 25% and year-to-date growth of 28%. All key product categories, geographies and channels delivered significant double-digit growth in the quarter, which has to make Luxottica Group salivate at the thought of finally closing the deal.
Currently, the deal is still subject to regulatory approval in South Africa, as well as to a vote by Oakley's shareholders. The transaction impacted net income by approximately 2 cents per diluted share, though bottom line growth still outpaced top line by a healthy margin.
The 25% jump in sales over last year came from 19% organic growth and 6% growth from the acquisitions of ESS and Bright Eyes. Favorable currency exchange rates increased Q3 net sales by approximately 270 basis points versus last year's third quarter, implying net sales grew approximately 22.8% on a currency-neutral basis.
Global third quarter net sales to wholesale customers were $200.5 million, a 22.7% increase over $163.4 million in the same period of 2006. Retail sales increased 35.3% to $63.3 million from $46.8 million in the year-ago quarter, driven by "strong positive comparable store sales growth," as well as by new Oakley and Sunglass Icon stores and increased Internet sales.
Third quarter optics net sales growth was driven by "significant double-digit increases in sunglasses, prescription eyewear, and goggles,"  according to management on a quarterly review conference call with analysts. Third quarter AFA net sales growth included "significant contributions from apparel and footwear," and a "double-digit increase in watch sales."
Goggles demonstrated strong overall growth due to the ESS acquisition, but grew only modestly from last year on an organic basis. Procurement delays for certain goggle lenses at the end of the current quarter caused the sluggish organic growth. In total, the optics category generated 73% of sales in the current quarter, up from 71% in Q3 last year.
Third quarter net sales of other products, which represent non-Oakley owned brands sold through the company's multi-branded Bright Eyes, Sunglass Icon and The Optical Shop of Aspen retail stores, increased 28.7% to $19.4 million from $15.1 million last year.
On the call, management said the Dragon brand "generated solid growth" in the third quarter.
The international business saw FX rates boost reported sales by 6.1%. The company's Americas region, which includes Canada, Mexico and South America, but not the U.S., saw "significant" double-digit optics and AFA growth; EMEA generated "a significant increase" in net optics sales and "a slight increase" in net AFA sales; and Asia-Pacific had "significant double-digit increases in optics and a strong increase in net AFA sales." The company said its efforts in Japan are beginning to pay off as "both sunglass and prescription eyewear sales were very strong" in the quarter.
The company declined to give any forward looking guidance as a result of the pending transaction with Luxottica. However, on the retail front, the company ended the quarter with 281 company stores, up from 203 stores in September last year. Oakley plans to have 297 company-operated retail stores at year-end.