Augie Nieto was one of the most successful innovators in the fitness industry who turned his efforts toward finding a cure for ALS after he was diagnosed with the disease 18 years ago. Nieto, a 2008 Sporting Goods Industry Hall of Fame inductee, passed away on February 22.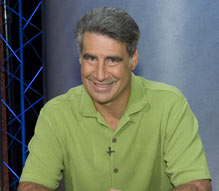 Nieto bought the marketing rights to the Lifecycle exercise bike in 1977 at age 19, and three years later, he co-founded Lifecycle, Inc., now Life Fitness. During the next 20 years, Life Fitness grew under his leadership into the world's largest commercial fitness equipment manufacturer.
Nieto was diagnosed with ALS in 2005. He was the chairman and co-founder of Augie's Quest to Cure ALS and the chairman of the ALS Therapy Development Institute.
"Mr. Nieto had a significant impact on so many lives through his innovative spirit to help people become more physically fit and then with his determination to find a cure for ALS," said NSGA President & CEO Matt Carlson. "He raised tremendous awareness to the battle he fought with ALS, and that legacy will live on as the search for a cure continues. We are saddened to hear about Mr. Nieto's passing, and we extend our deepest condolences to his family, friends and everyone he has helped and touched during his life."
Nieto, born February 15, 1958, passed away peacefully as he was surrounded by his wife Lynne, his family and other loved ones, according to the story on the Augie's Quest to Cure ALS website. He raised nearly $200 million for ALS research.
Nieto also served as chairman of Octane Fitness, a manufacturer of ellipticals, fitness rowers and fitness bikes. He was an operating advisor with North Castle Partners, a Connecticut-based private equity investor focusing on building companies that advance healthy, active and sustainable living.
Nieto served on the boards of several companies, was a member of the Young Presidents Organization, and received the Ernst & Young Entrepreneur of the Year award in Illinois in 1995. He earned a degree in economics with an emphasis in financial accounting from Claremont McKenna College in Claremont, CA.
Photo courtesy NSGA