Nordstrom Inc. reported first-quarter earnings fell well short of Wall Street's targets as execution issues associated with the launch of its enhanced loyalty program was partly to blame for a sales shortfall.  It now expects 2019 net sales between a 2 decline to flat growth, compared with its previous projection of 1 percent to 2 percent rise.
Earnings fell 57.5 percent to $37 million, or 23 cents, falling short of Wall Street's consensus estimate of 43 cents. Total company net sales decreased 3.5 percent for the first quarter. The company's top-line results were impacted by three areas — loyalty, digital marketing and merchandise — which contributed to declines across its Full-Price and Off-Price businesses, in both stores and online.
"While we expected softer trends from the fourth quarter to continue into the first quarter, we experienced a further deceleration. We had executional misses with our customers, and we're committed to better serving them. This is well within our control to turn around," said Erik Nordstrom, co-president, Nordstrom, Inc. "The strength of our inventory and expense execution helped mitigate a meaningful portion of our sales miss. We ended the quarter with inventories in solid shape, and our financial position remains strong. We're actively taking steps to drive our top-line, and we're focused on delivering on our financial goals."
Nordstrom is confident in its ability to drive top-line growth and improve profitability, as well as execute its key strategies to better serve customers on their terms:
The company began taking steps to drive improvement, which include: resolving executional issues associated with the launch of its enhanced loyalty program; further investing in its digital marketing; and re-balancing its merchandise assortment to better align with customer expectations.
The company has demonstrated its ability to bend the expense curve and continues to make its business more efficient and productive. The company is tracking ahead of its plans in executing efficiency initiatives to achieve savings of $150 to $200 million this year.
The company is scaling its local market strategy in its top markets by providing customers with greater access to merchandise selection, with faster delivery and at a lower cost to the company. In the first quarter, Nordstrom delivered outsized growth in digital sales and store traffic in the Los Angeles market.
Nordstrom will expand its presence in New York City, its largest market for online sales. The company is on track to open its flagship on October 24 and two Nordstrom Local neighborhood hubs this fall. These physical assets will drive engagement with customers across multiple touch points, which is expected to contribute a meaningful sales lift for this market.
As the company approaches the end of its heavy generational investment cycle this year, these businesses — Nordstromrack.com/HauteLook, Trunk Club, Canada and New York City — continue to scale and are expected to contribute top-line growth and improved profitability for 2019.
First Quarter 2019 Summary
First quarter net earnings were $37 million compared with $87 million during the same period in fiscal 2018.
Earnings before interest and taxes ("EBIT") were $77 million, or 2.3 percent of net sales, compared with $153 million, or 4.4 percent of net sales, during the same period in fiscal 2018. The decrease was driven primarily by lower sales volume.
In Full-Price, net sales decreased 5.1 percent compared with the same period in fiscal 2018. Off-Price net sales decreased 0.6 percent.
Total company digital sales grew 7 percent and represented 31 percent of the business.
Gross profit, as a percentage of net sales, of 33.5 percent decreased 60 basis points compared with the same period in fiscal 2018. This was primarily due to planned markdowns to realign inventory to sales trends and deleverage on occupancy expenses. Ending inventory decreased 5.3 percent from last year, reflecting a positive spread between inventory and sales.
Selling, general and administrative expenses, as a percentage of net sales, of 34.0 percent increased 168 basis points compared with the same period in fiscal 2018. This was primarily due to fixed expense deleverage on lower sales volume.
During the quarter ended May 4, 2019, the company repurchased 4.1 million shares of its common stock for $186 million. A total capacity of $707 million remains available under its existing share repurchase authorization. The actual timing, price, manner and amounts of future share repurchases, if any, will be subject to market and economic conditions and applicable Securities and Exchange Commission ("SEC") rules.
At the beginning of fiscal 2019, Nordstrom adopted ASU No. 2016-02, Leases, and all related amendments ("Lease Standard"). The Lease Standard increased total assets and liabilities by approximately $1.9 billion. The impact was immaterial, ranging from no impact to 0.3, for the following metrics: Return on Assets, Debt to Net Earnings, Adjusted Return on Invested Capital (non-GAAP measure) and Adjusted Debt to EBITDAR (non-GAAP measure).
Expansion Update
To date in fiscal 2019, the company opened three stores, closed two stores and relocated one store. The company opened the following stores in the first quarter of 2019: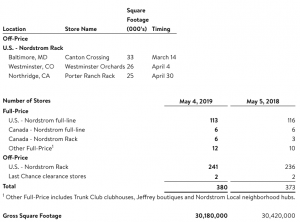 Fiscal Year 2019 Outlook
Nordstrom remains focused on three strategic objectives in driving shareholder returns: gaining market share, improving profitability and returns, and maintaining disciplined capital allocation. The company revised its annual outlook to reflect current trends: