Trends, oddities and the business of snow … SGB coverage continues from last week's SIA Snow Show.
By Carly Terwilliger
It's hard to say what the mood would have been at the 2017 SIA Snow Show if the weather had continued to disappoint. But with the flakes falling and the powder piling up, high spirits prevailed.
Walking the show floor, especially during the delightfully numerous happy hours, we heard snippets of conversation praising the recent conditions at various resorts and enthusiastically looking forward to the Demo Day at Copper Mountain. They were also talking to SGB about trends, oddities and the industry in general.
Here's an overview of what's new, exciting and concerning for the business of snow in 2017.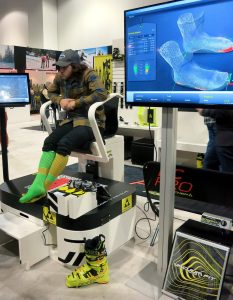 A Robot For Every Ski Shop
Many ski and snowboard brands were touting wares to make the weekend warrior looking for a sick story to tell on Monday better, faster and more comfortable on a variety of terrain. Perhaps a pair of ski boots fitted by a robot would take you to that next level.
Fischer was showing one called simply Vacuum Tech, which requires perching in a chair with "these crazy socks on," said brand representative Maro LaBlance. "People always come in and argue about what their size is. Now we can show them with the technology, no, you're wrong, we're right," added Fischer Alpine Product Manager Adam Sink.
Not everyone is focusing on rapidly ascending the skills ladder, though. Over at Elan, the story was all about enjoying the mountain with friends and family. Elan, which was previously owned by the country of Slovenia, is now privately owned and undergoing a family-friendly global rebrand.
"Other brands are more driven by athletes, with everything ramped up to a crazy degree," said Elan Director of Client Happiness MJ Carroll. "But outside of that group, hey, a guy skier finds a girl skier and they have kids." Said Carroll, "We're working on being relevant to the people that aren't competing, but they participate a lot."
Business Up Front, Party In The Back
Apparel brands are still figuring out what it means to give snow sports what it seems to want so badly: a quiver of one for not just skis but everything, including wardrobe. A lot of companies are interpreting lift-to-bar with understated colors and sleek, lightweight styles.
Gloves are getting a waterproof leather makeover, with low profiles and high-tech bells and whistles. Goggles are increasingly expected to come with handy pop-off, pop-on interchangeable lenses. There's a lot of stuff out there that's unisex, cool, subtle or retro.
But in baselayers, there's a revolution going on that's the clothing version of a mullet: business up front, party in the back. In this case, the party is going on underneath outerwear, and there were few next-to-skin brands more colorful and visible on the show floor than Kari Traa, a Scandinavian brand that came to the U.S. two years ago.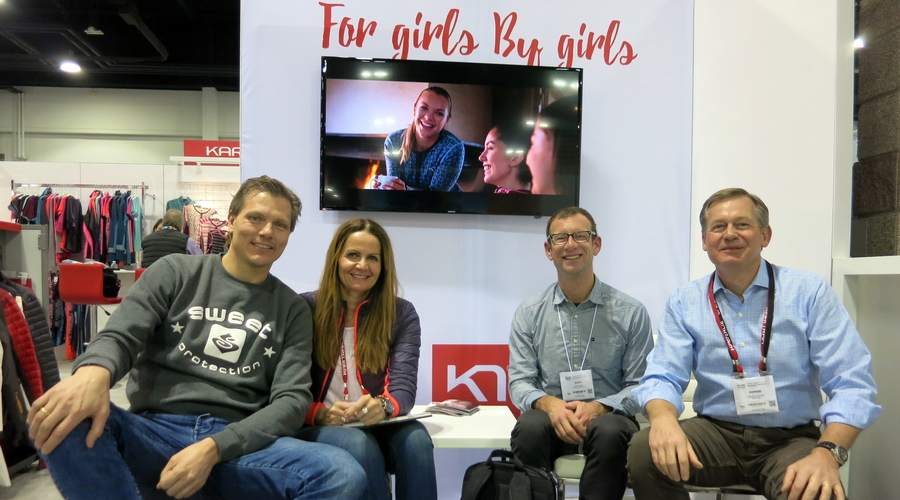 The company's high-end offerings have so far avoided getting lost in the crowd because it's focusing on more relevant channels. "We're not knocking on Dick's door, we're not selling direct on Amazon," said Bob Donker (pictured above, left), director of international sales at Active Brands, Kari Traa's umbrella parent brand. "People think, oh, America, land of opportunity," continued Donker. "But there's so many brands, so we really need to have something unique in order to stand out."
Terramar, which sells baselayers at a lower price point, is also capitalizing on the trends that are making its products a staple for ladies on the slopes. "When I started out with Polartec back in the '90s, prints were popular," commented Marketing Director Tom Mendl. "Then it sort of went away. It used to be called long underwear, then baselayer, and now that's not even that accurate because people wear them everywhere, not just underneath their clothes."
Going back to that elusive it-does-everything goal that snow sports brands are striving for, Mendl said, "Leggings are what women want to wear. They're versatile and athletic, but consumers also want them to look good."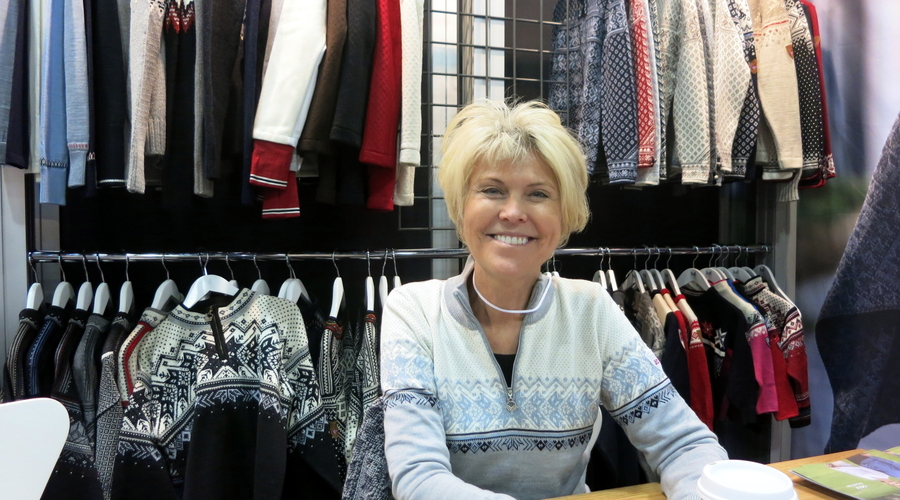 And then there are those who are responding to the crowded baselayer category with a shrug and a luxurious alternative. "Everyone is doing baselayers," said Hilde Midthjell (pictured above), owner and chairman of the board of Dale of Norway. "But we decided to do this soft, high-quality lightweight sweater because no-one else was doing it this way." The bottom line is that no matter what you want to put on first in those pre-dawn hours before the lift opens, there's a brand eager to provide it.
Adventures In Cyberland
No matter how chic or rad your brand is, you still have to sustain it, grow it, market it and sell it. Companies are cautiously but steadily moving toward automation while assuring us that their workforce is being retrained and redistributed, not discarded.
Amazon and the internet aren't going away, and everyone seemed to have an opinion on how to adapt. Dale of Norway's Midthjell said her company is working to make it easier for potential customers to find and obtain its products. "We're really working on developing our website, because when we use the retailers' websites there are too many clicks," she explained. "We lose customers along the way."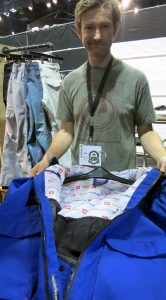 Customers are looking for a connection on the channels they already inhabit, and some brands are encouraged by the increasing correlation between someone who interacts on social media and someone who drops cash on a physical product. "Facebook has a pretty good return, actually," said Flylow Co-founder Greg Steen. "We've pulled back a lot from print media."
"Social media is something we're jumping into with both feet," said Tara Coyle with Seirus. The potential of Instagram is especially intriguing, because of the strong response customers have to images. "We're gearheads, but when we get technical people might not understand that," said Gary Fleming, president, Alpina/Elan Sports. "But show them an image of people skiing in a group, and they respond to that."
And if you were looking for the strangest thing at the show, we think we found it — a 686 "Cooler" jacket that holds 11 beer cans and keeps them cold (pictured above right). Well done, dudes.
Photos courtesy Carly Terwilliger