After three productive years leading Nikwax North America, Rick Meade has announced he is leaving to seek new challenges and growth opportunities. Brian Davidson, current director of sales for Nikwax, has been named president, and Heidi Allen, current marketing director, has been promoted to VP of marketing.
The transition took place July 1.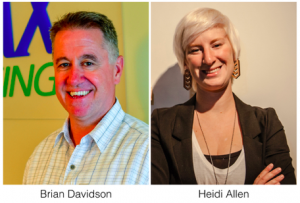 "I depart knowing Nikwax NA is in great hands," said Meade. "Since Brian joined the team in 2015, we've benefited from strong alignment, steady pursuit of business opportunities and improved service to our customers."
"Rick has been an effective leader and especially good at recruiting and developing staff," said Nick Brown, CEO of the global Nikwax company based in the U.K. "He has brought on great people, and Nikwax NA is in a strong position to go forward with Brian Davidson as President. Prior to joining Nikwax, Brian was a Senior Director at Raleigh/Diamondback and Life Fitness, and has held various vice president and senior management positions. He has plenty of experience in leadership and excellent judgement."
Davidson will continue to lead the effort supporting Nikwax's core outdoor customer while strengthening sales and marketing to drive consumers to Nikwax's retail partners.
Allen, who has been with the company since 2009, will take on expanded responsibilities for both commercial strategy in North America and global marketing engagement.
Photo courtesy Nikwax