Nike and Lululemon each made gains as preferred brands among Generation Z in Piper Sandler Cos.' 39th semi-annual Taking Stock With Teens survey, released Wednesday.
The survey highlights discretionary spending trends and brand preferences from 5,200 teens across 41 U.S. states with an average age of 16.2 years. Generation Z, which contributes approximately $830 billion to U.S. retail sales annually, represents an influential consumer group where wallet size and allocation provide a proxy for category interest.
This year's Spring 2020 survey was impacted by the COVID-19 pandemic. The survey was conducted from February 17 to March 27 with several teens taking it while quarantined at home – most notably during the last three weeks of the survey. Students answered the survey at home as part of an online learning module Piper Sandler incorporated with partner, DECA — receiving lower responses from the Northeast — the part of the U.S. which has suffered the most from COVID-19.
"Our Spring Teen Survey was conducted during a time of significant upheaval as the world (and U.S. teens) grappled with the realities of COVID-19. In fact, we believe the majority of our responses came from teens taking the survey from their own homes. Not only was 'Coronavirus' listed as the No. 2 social/political concern among teens, but we saw a significant uptick of teens worried about the economy along with a corresponding 13 percent drop in 'self-reported' spending versus just last year," said Erinn Murphy, Piper Sandler senior research analyst.
"Today's teens are more connected than ever before—they spend an average of 12 hours on social media per week, 53 percent name Amazon as their top e-commerce site, Netflix is their go-to choice for daily content and 85 percent own an iPhone. As it relates to brand preferences, we continue to see casualization of fashion march higher—Nike gained share as the No. 1 brand & Lululemon hit a new survey high as the No. 6 preferred brand."
Nike ranked first among Top Clothing Brands, while Adidas was third. Nike also was the Top Footwear Brands, followed by Vans, Adidas, Converse and Foot Locker. Nike also ranked second among Top Shopping Websites behind only Amazon. Lululemon tied for fourth in that category.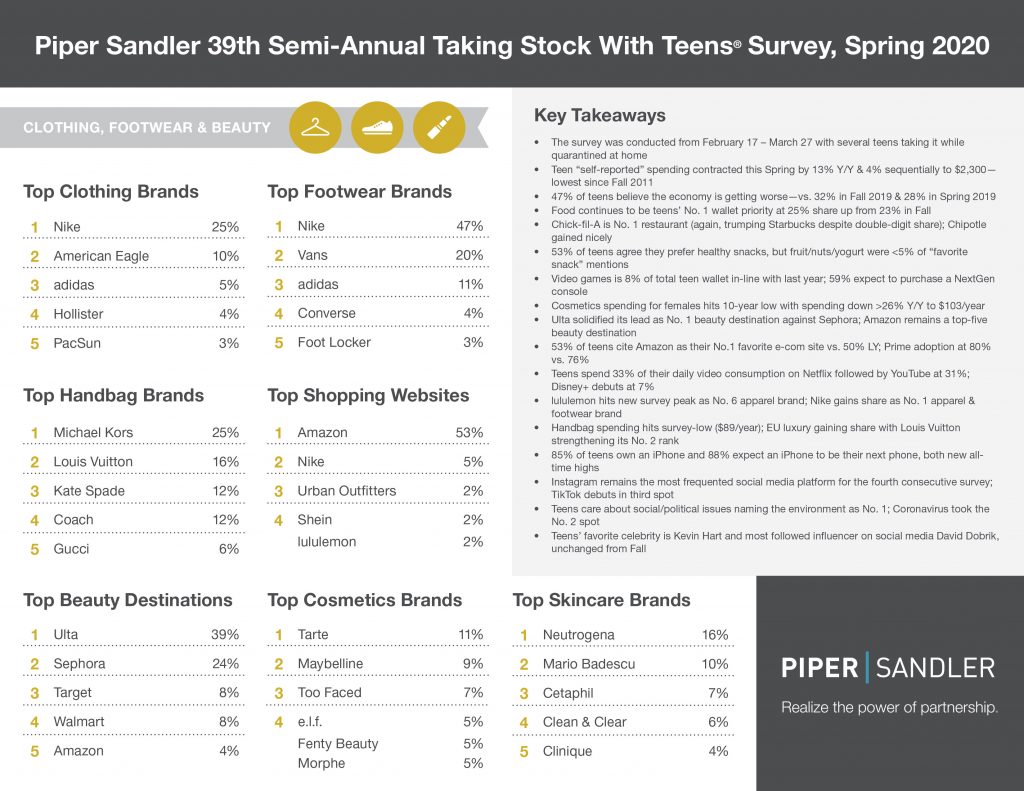 Look for more analysis on the survey, including a focus on active-lifestyle brands, later this week in SGB Executive.