Hundreds of Nike employees on Monday marched in protest at its headquarters over the company's treatment of women, according to local and national reports. This march took place as Nike reopened a building named after disgraced running coach Alberto Salazar, the coach of Nike's shuttered Oregon Project.
Salazar was banned for four years earlier this year by the U.S. Anti-Doping Agency on counts of three doping code violations. The coach has denied the accusations.  Some employees want Nike to remove Salazar's name from a building, just as Nike has done for those honoring Joe Paterno and Lance Armstrong.
According to the New York Times, employees marched around a lake on the east side of Nike's 300-acre campus behind a bright yellow banner that read "Do The Right Thing." Other signs visible during the march asked "How Can Nike Better Support Women?" and expressed support for Mary Cain, the former Nike runner who penned  a damning op-ed in the Times' last month charging she was "emotionally and physically abused by a system designed by Alberto and endorsed by Nike."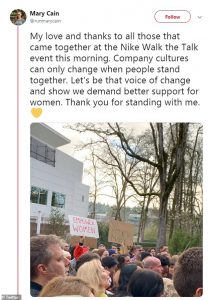 Cain was present for the march, and posted pictures on social media.
One flier explained that the march was organized to 'celebrate what women bring to sport and to champion equality.' Another sign read, 'Nike is a woman,' in reference to the mythological Greek god.
Willamette Week, which first reported on the march, said picketing was calm and orderly, and the protesters were never dispersed or interred with
The march was not sanctioned by Nike, but several senior executives joined the employees and engaged them in a dialogue, according to a Wall Street Journal report. Protesters organized the march by distributing fliers, one of which reportedly warned against speaking to the press for fear of provoking retribution from Nike.
Nike said the flier threatening termination was not distributed by the company. "We respect and welcome employees' feedback on matters that are important to them," the company said in a statement after the march.
The protests also came nearly two years after dozens of employees detailed their experiences with sexual harassment and gender discrimination at Nike in surveys delivered to top executives, resulting in firings of a number of senior leaders, including Nike Brand president. A group of female employees sued Nike in August 2018, claiming the company discriminated against women and fostered a hostile work environment