"Air embodies Nike's endless desire to dream. Decades ago, we harnessed this shape-shifting element to forever change Nike, and to take those who put it beneath their feet to places they never thought possible. By capturing air, Air captured us. Today, the spirit of Nike Air still drives us to first imagine, and then create tomorrow." — Nike
—•—
Designers from six major cities were given the chance to create their own Air Max sneaker to embody what they consider to be the best representation of their hometown.
Nike gave fans a chance to decide on the pairs of sneakers that would win the competition, with three finalists from each of the six cities for a total of 18 finalists. From the 18 designs, six were selected, one from New York City, London, Paris, Tokyo, Seoul and Shanghai on models including the Air Max 1, Air Max 90, Air Max 95, Air Max 97, Air Max 98, Air Max 270 and VaporMax Plus.
Yesterday, Nike announced the winning designs, and here they are.  Click on each image to watch/listen to each designer speak about the inspiration to their sneaker design.
---
Jasmine Lasode
Visual Artist, London
Jasmine's London Summer Of Love Air Max 97 celebrates the ever-changing East End of London where she lives and works.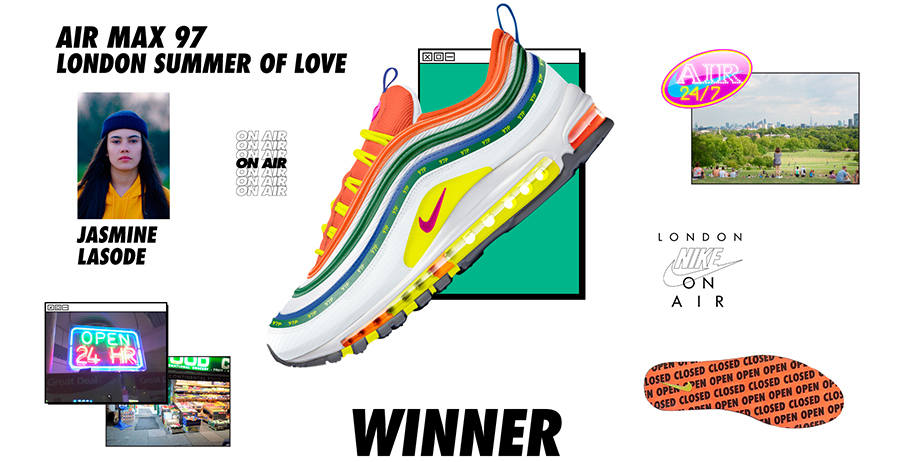 ---
Yuta Takuman
Tokyo

Yuta's shoe concept embodies the urban culture of Tokyo—colorful underground tube lines, the city's concrete surface represented in the embossed leather and the red bubbles that symbolize Tokyo's iconic tower, which stands for reliability.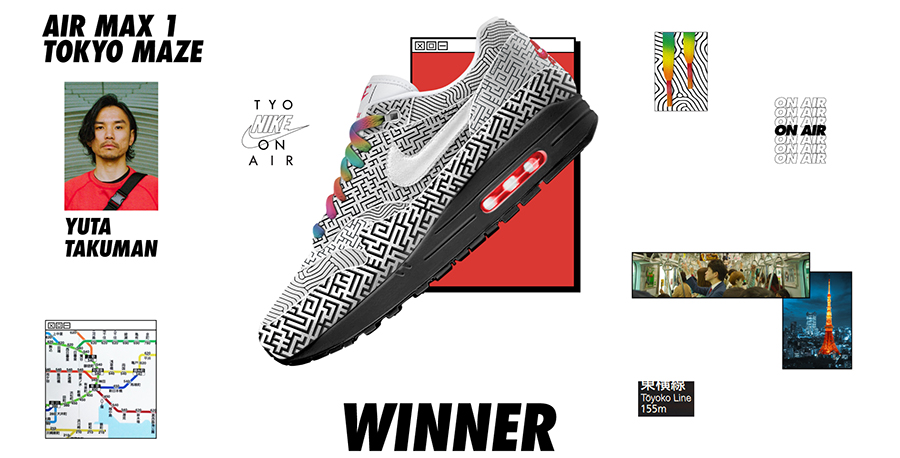 ---
Lou Matheron
Photographer, Paris

Lou's eye for fashion, architecture and portraits led her to recreate the colors and materials from a courthouse that is under construction in the center of Paris. The slip-on sneaker shows the swoosh and offers a support strap all in a color palette taken from the worksite and uniforms of the construction workers.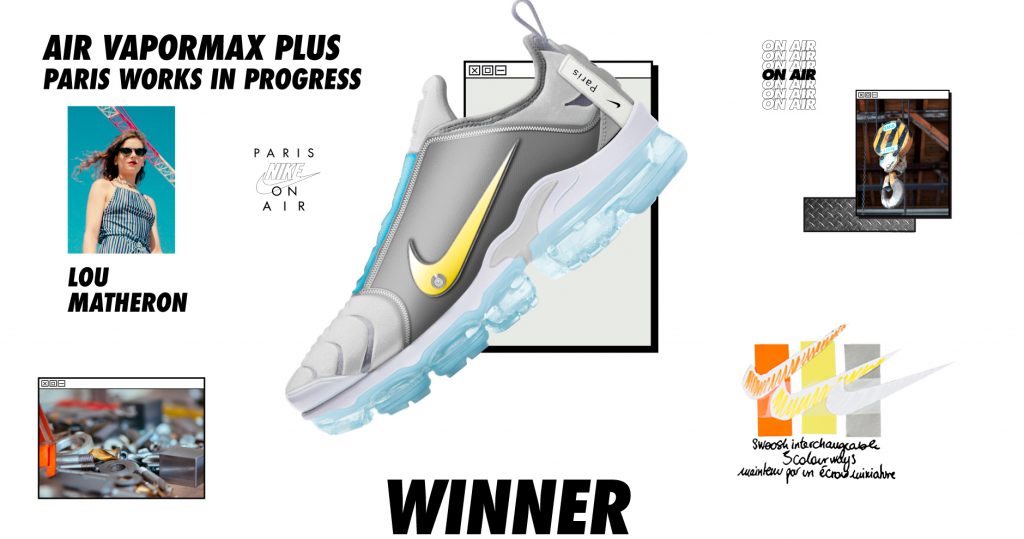 ---
Gwang Shin
Graphic Designer and Sneaker Freaker, Seoul
Inspired by the city's neon signs, Gwang's winning design uses matte black paired with neon colors inspired by the Taeguk symbol of Seoul national flag. The neon swoosh and Seoul LED logos convey the city's energy at night.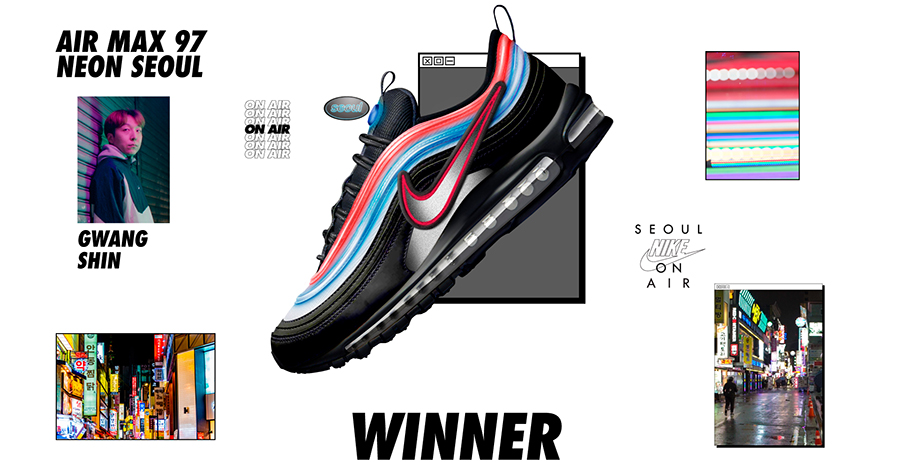 ---
Cash Ru
Industrial and Jewelry Designer
Cash's Air Max 97 SH Kaleidoscope is a reflection of the ever-changing clouds above Shanghai. For Cash, the clouds symbolize Nike athletes who are constantly evolving, pushing boundaries and limits.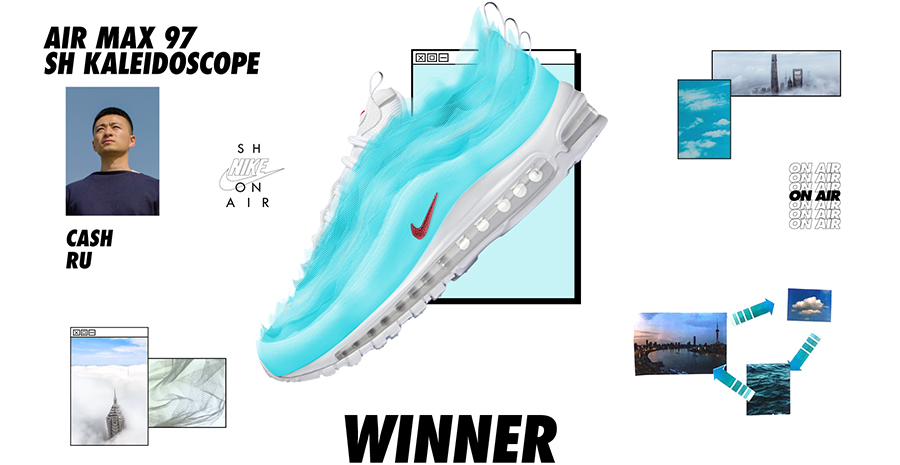 ---
Gabrielle Serrano, aka Queen Leo
Photographer, New York City
The people are what make NYC special for Gabrielle. They are a blended mix of race, ethnicity and culture, and it's a special place where you can travel the world without ever leaving New York. It's in these qualities that were the inspiration for her shoe design.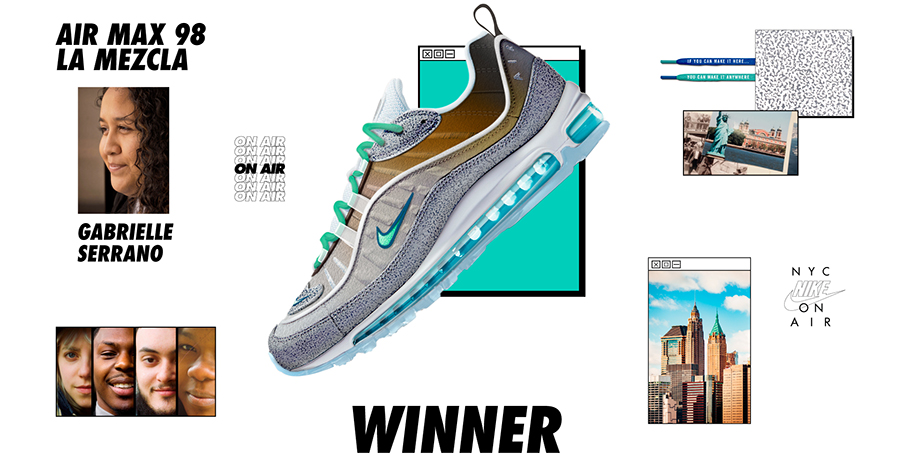 ---
The designers will be heading to Nike's corporate headquarters in Beaverton, OR in July to meet and work with the product development and marketing teams to bring their designs to fruition, and eventually for sale at select retailers. For more information go here. 
Photos and videos courtesy Nike