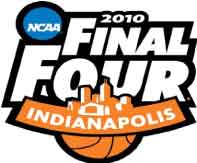 With the field of 65 teams now set for the 2010 NCAA Division I Mens Basketball Championship, Nike will once again be the brand seen the most by viewers of the event, as 78% of the teams (51 total) in the field will sport the Swoosh in some form, either as footwear, uniforms, or both. That percentage does not include the two teams who will be outfitted by the Jordan brand, a Nike subsidiary.
Nike is guaranteed at least one entrant in the Final Four this year, as the entire West Regional, led by top-seeded Syracuse and second-seeded Kansas State will be outfitted head-to-toe by the brand. With 51 teams wearing some form of apparel or footwear from Nike, 45 of those will be outfitted with both footwear and uniforms. A year ago, Nike placed three teams in the Final Four in Detroit, while having a hand in all four participants, including eventual National Champion, North Carolina, which was outfitted by Jordan.
Adidas will be the second-most prominent brand in this years event, with 11 teams being completely outfitted in the brands products, including five teams in the South Regional alone, topped by third-seeded Baylor, along with the Bears Big 12 brethren and fifth-seeded Texas A&M. Adidas also sports three teams in the East Regional, including fourth and fifth-seeded Wisconsin and Temple.
Other brands represented in this years field include; Russell Athletic (three teams), Under Armour (one team), CRONS (one team), and Pro Look Sports (one team). Two brands, Converse and Reebok had one team each in the 2009 tournament, but are not represented in this years field.