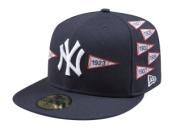 New Era Cap Co., Inc. will be expanding its relationship with filmmaker and devoted New York sports fan Spike Lee with the launch of a new series of exclusive caps dubbed the "Spike Lee Joint" Collection. The new "Spike Lee Joint" series will feature one new cap design to be released internationally each year.
The first in the annual collection ties in the 26 years of New York Yankees championships as the team closes out their tenure in the old Yankee Stadium. The cap will be released during the 2008 MLB All-Star Game with signings to take place at Yankee Stadium and the New Era Flagship Store in New York City.
"The 2008 MLB All-Star Game will be one of the most historic events in baseball history and it thrills me to be a part of such a momentous event," said Spike Lee. "Being a native New York sports fan and appreciating the history of New Era and Major League Baseball, it's only right that the first cap represents the New York Yankees."
"We are ecstatic to continue our partnership with such a true New York cultural icon such as Spike Lee, said John DeWaal, VP of Brand Communication at New Era. "Working with Spike in the past, we were able to see firsthand his creative abilities and passion for caps and we are excited to expand this partnership into a series that honors our unique relationship with him."
The New Era/Spike Lee relationship first began in 1996 when Lee approached New Era to request a one-of-a-kind red New York Yankees fitted. Although curious, New Era fulfilled Spike's request and sent him the first ever red New York Yankees cap, which subsequently launched their partnership and the beginning of a "new era" of fitted fashion caps. Since then, Lee has produced three different TV campaigns for New Era and was involved in the 50th Anniversary of the 59FIFTY cap by designing the first ever "Capture The Flag" series limited edition cap.