An eighth year of participation data released May 18 by The Outdoor Foundation sheds light on why the outdoor industry is shifting resources to college campuses.
Following its successful pilot launch in fall 2014, the Outdoor Foundation's board committed to expanding the Outdoor Nation Campus Challenge from 10 to 500 colleges by 2020 in a bid to reach more 18-to-24-year olds. On May 12, the Foundation announced 59 colleges with a combined enrollment of 850,000 had registered to compete in the event this fall, up from 10 that enrolled last year.
College-age participation remains near post-recession low
The Outdoor Recreation Topline Report 2015 released by the Foundation last week estimates 34 percent of 18-to-24 year olds participated in outdoor activities in 2014. While that is up 3 basis points from 2013, it's well below its peak of 46 percent seen in 2008. By comparison, participation among 6-to-12-year olds was estimated at 38 percent, flat with the prior two years, but up 7 basis points from 2008. An estimated 27 percent of 13-to17-year olds participated in outdoor activities in 2014, up 1 point over the rate of the prior two years and 2 points from 2008.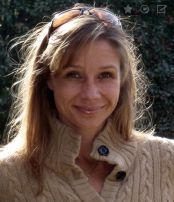 "The decline in outdoor participation among young people has been decades
in the making and will it will take decades to recover." – Chris
Fanning, Executive Director, The Outdoor Foundation
"The decline in outdoor participation among young people has been decades in the making and will it will take decades to recover," said Chris Fanning, Executive Director of The Outdoor Foundation, which was formed by Outdoor Industry Association in 2000 to inspire a new generation of outdoor leaders and enthusiasts. "This report suggests we have begun to stabilize participation among young people -particularly among the 18-to-24 demographic. This will require time, resources and patience."
The numbers reflect demographic trends well outside the industry's control. Kids ages 6 to 24 are much more likely to have grown up in suburban or urban communities with less access to outdoor recreation in a household where both parents work. On average, American youth spend eight hours in front of a screen each day and just minutes outdoor.
Moreover, the huge 12 point drop in participation rates observed among college age adults in 2009 reflects the disproportionate impact the recession had on that age group.
"They still haven't recovered," notes Carol Brodsky, CEO for Sterling Ropes and a member of the Foundation's board. "So disposable income for this group, which wasn't great to begin with, got even worse."

The disturbing drop prompted The Outdoor Foundation to hire Fanning and launch Outdoor Nation in 2010. Using a grant from REI Foundation, Fanning began building a coalition with federal and state park authorities, civic groups, college outdoor clubs and outdoor brands and retailers to recruit 17-to-24-year olds from diverse backgrounds to attend five regional summits and brainstorm ideas for spurring participation.
Campus Challenge is born
By June 2013, Outdoor Nation had hosted Summits in 17 cities, awarded hundreds of micro-grants to youth-led projects that engaged more than 75,000 young people in outdoor activities. But it was also clear that the movement was gaining the most traction on college campuses, where existing outdoor recreation clubs had the rental gear and organizing muscle to champion the cause. In fall 2014, the Foundation launch Outdoor Nation Campus Challenge as a pilot program to see what would happen if 10 colleges competed "head-to-head" to see which could get the most people outside and active. The North Face and other brands donated gear campus organizer could use for promotions or to bolster their rental fleets.
"A lot of outdoor sports are expensive to get into," observed Brodsky. "If you look at where the rise is in participation, it is often in sports where it's easier rent the gear or equipment, or it isn't expensive. Millennials don't really want to own this stuff, but they do want to try it. So, our focus, through events like Outdoor Nation, and supporting the college programs allow kids to try hiking, camping, boating, paddle boarding, climbing etc."
The College of Saint
Benedict/Saint John's University (CSB/SJU) beat out schools nearly five times
its size to win the inaugural Outdoor Nation Campus Challenge by getting nearly
6 in 10 of its students involved.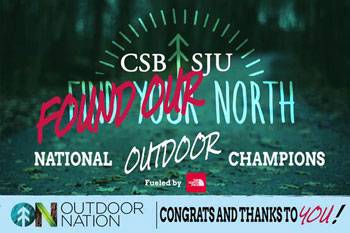 During the eight-week contest, nearly 8,500 college students logged more than 43,000 outdoor activities they participated in. A survey of participants revealed 79 percent increased their outdoor recreation activities as a result of the Challenge. Perhaps more importantly, 60 percent organized others to get outdoors as a result of the challenge and 95 percent believe that the Challenge is effective in motivating "outdoor novices" to get outdoors.
"We surprised many, including ourselves, in terms of how big of an impact this had" said Jenny Kutter, coordinator for the College of Saint Benedict/Saint John's University (CSB/SJU), which won the challenge. "It became very clear to people early on that we are an outdoor community and should be proud of that."
Nearly 2,000 of the school's 3,800 students registered online to participate in the challenge, enabling the school to outperform much larger schools to win the challenge.

Scaling the model
The pilot program demonstrated how the industry could effectively deputize thousands of college students as Outdoor Nation ambassadors. This fall, the Foundation will get see how scalable and sustainable that model is.
"This year our goal was 50 schools, 200,000 activities and 40,000 participants," said Fanning. "It's certainly a stretch goal, but we've already surpassed the first goal by enrolling 59 schools."
College students represent a huge opportunity not just because they are at an age when they are forming brand affiliations that will endure for their whole life, but because many of them are looking for activities to replace the team sports they participated in at the high school level.
"We all know that after high school even the most active young people can start to slow down. There's a cliff effect when kids move away from organized, hometown sports," said Marc Berejka, President of The REI Foundation.
"Spending time outdoors is just fun and it's good for you. We're hoping that the Outdoor Nation Campus Challenge can inspire young people to incorporate outdoor adventure into their college and post-grad lives."
To incentivize performance this year, the Foundation is offering Outdoor Nation grants to colleges that achieve certain goals, including holding summits on campus. The Foundation also required Campus Challenge applicants to designate a local outdoor retail partner for the first time.

Reasons for optimism
The North Face doubled its investment in the contest this year and has been joined by The REI Foundation as presenting sponsor. Chaco, Adidas Outdoor and Osprey Packs have also signed on to sponsor the contest this year.
"There is reason to be optimistic about the opportunity with this demographic, especially with the rising popularity of enthusiast sports such as Kayak Angling and SUP," said Confluence Outdoor CEO Sue Rechner, who serves on the Outdoor Foundation board of directors. The Greenville, SC company, which makes Wilderness Systems, Perception and Wave Sport kayaks, Mad River Canoes and Boardworks surf and standup paddle boards, has been a big supporter of the Outdoor Nation Paddle Grants program. "We have seen an increasing number of young people and especially young men adding to the growing demographic of kayak anglers."