New Balance will open its first "Experience Store" in Beijing on August 15, 2009. The two-floor 2,000+ square-foot New Balance Experience Store is located in Beijing's famous Qianmen Avenue. New Balance has plans to open as many as 1,000 stores in China before 2012.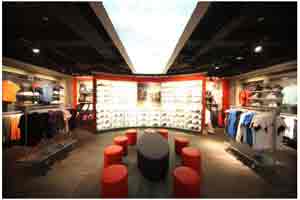 Rob DeMartini, chief executive officer and president of New Balance said, "We are excited about this new store model that pays tribute to our heritage, celebrates our innovation and sets a new standard of retail excellence within the global marketplace. The New Balance Experience Store in Beijing allows consumers to engage with our rich brand story that is 103 years in the making."
For the grand opening, New Balance will be host to a 1960s-style American carnival along Beijing's Qianmen Avenue. With the trappings of a real carnival, it will take up Qianmen Avenue with its games, gifts, balloons and carnival-style décor.
New Balance will also launch their national "Total Fit Campaign" geared towards the Chinese market. The campaign will share inspiring stories of runners from around China. The company will also select 88 of the most inspiring runners – each with a story of their own – to take part in an international marathon in Hong Kong. They will also be holding a "6km Run" open for public participation in Nanjing and Hangzhou following its initial success in Shanghai.
The first floor's décor is inspired by New Balance's heritage with a nostalgic feel harkening back to the 1950s and 60s. Using materials that are worn and textured, the store's first level is dedicated to the brand's rich history, complete with framed archival logos, vintage New Balance ads and various brand paraphernalia dating as far back as 1910. A DNA ribbon which extends from the first floor entrance all the way to the second floor takes the consumer through a chronological journey documenting the brand's rich past, present and future. The detail in the overall store design is further complimented by audio, visual and olfactory experiences throughout the store including the unique smell of oak reminiscent of a shoe store's scent from the mid-20th century. The environmental ambiance of the second floor is consistent with the first floor, paying homage to the brand's signature grey while introducing the brand's modern day technology-based offerings amidst an evolved red and grey color scheme.