In its new campaign, the Boston-based brand is encouraging fans to share what they love using the hashtag #ThisIsBoston.
Writer: Thomas J. Ryan
Again looking to take back its hometown from Boston Marathon sponsor Adidas, New Balance launched a "This Is Boston" campaign highlighting Boston's best athletes.
The campaign marks a shift from the "Nobody Runs Like Boston" campaigns run over the past two years that have largely celebrated the brand's running heritage and its Boston roots in support of the Boston Marathon.
While the campaign includes 2016 Olympic runner Abbey D'Agostino and middle-distance runner Cory McGee, this year it also includes Boston Bruins Zdeno Chara and Torey Krug, pro skateboarder PJ Ladd and the Boston Red Sox's Brock Holt.
Beyond celebrating the 121st annual Boston Marathon that occurs on April 17 and the start of the Boston Red Sox's season, "This is Boston" comes as the Boston Celtics are battling with the Cleveland Cavaliers for the lead seed in the Eastern Conference playoff race and the Boston Bruins are fighting for a wild card spot.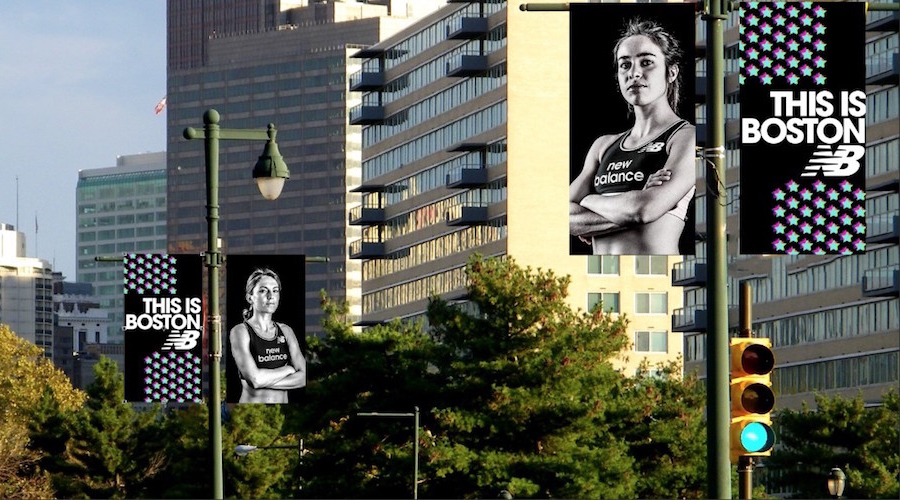 "This year we elected to showcase Boston-based, Team New Balance athletes who are true representatives of our unique brand values and vision," said Chris Davis, vice president of global brand marketing at New Balance. "We take immense pride in our esteemed running pedigree as well as our incredible roster of world class athletes who are so committed to giving back to the community."
Starting Friday, April 14, New Balance.com and the brand's social media handle @newbalanceus will release quotes from the athletes and city icons in the campaign saying what they love about Boston and encouraging fans to share what they love using the hashtag "#ThisIsBoston".
Some of the comments, viewable at the Boston Gear microsite, include:
Abbey D'Agostino: "What I love about Boston is, that it's home to me, first it's where I grew up & where my family is, but what I love about that city itself is that it's so connected to its roots, people have so much pride in the history & it's just emphasized in the city."
Torey Krug: "Boston is a place and city where I've spent the last 11 years of my career and my life. It's a place where my kids were born and where I've raised my family. I feel very comfortable to call it my home. Boston is my home."
Brock Holt: "Boston is and has become a huge part of who I am and a huge part of my life. I got traded over here in 2013 and ever since then I've fallen more and more in love with the city & me and my wife feel at home there. We love the people & everything there is to love about Boston."
The out-of-home "This Is Boston" campaign launched March 27 with exterior back lit bus shelter wraps, in-race media including light pole banners, MBTA-station dominations, race barricades and for the fourth year will take over the Prudential Center with multiple interior suspended murals and an exterior banner at the Boylston Street Plaza entrance. New Balance will also place a claw machine at the Prudential Center where users can win a pair of branded socks with additional prizes available for MyNB loyalty club members.
New Balance branded initiatives with Boston-based Lenox Hotel rounds out the campaign. A special Runner's Concierge will pop-up in the Lenox Hotel lobby where athletes can pick up items such as fuel, water, hair ties, body glide, etc. and get tips from local runners.
As usual, New Balance will also be releasing Boston-themed limited edition footwear and apparel. The brand's marathon shoe is the Fresh Foam Zante v3 Boston in a purple colorway, interpreted as the color of royalty "to honor athletic achievement." The shoe is available for $114.95 at Marathon Sports, the John Hancock Sports & Fitness Expo and New Balance outlets.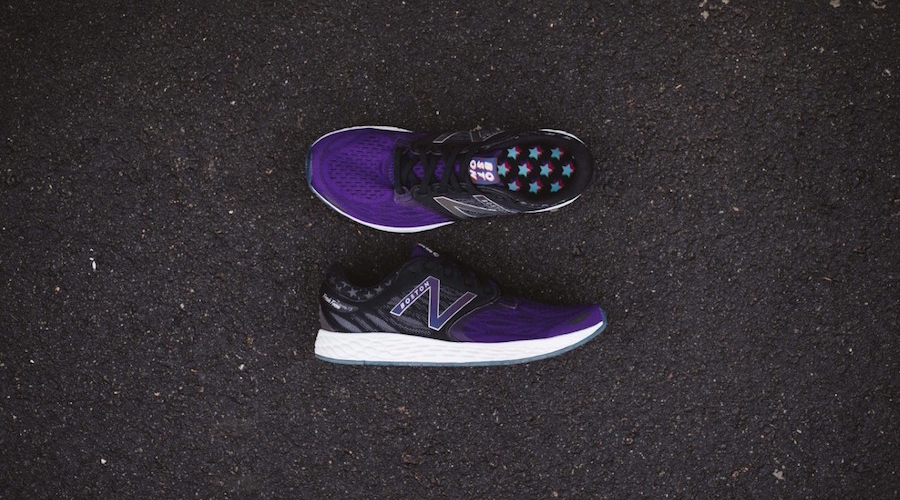 For the first time, New Balance this year will sponsor a special "This Is Boston" Daybreaker event at Fenway Park on Friday, April 14 to celebrate the campaign and welcome visitors to the city. Now spread to 16 cities, Daybreaker is a millennial dance party celebrates the benefits of being active before work. Local New Balance Ambassadors Aly Raymer and Eliza Shirazi will lead the workouts at Fenway Park, home of the Boston Red Sox, scheduled from 6 a.m. to 7 a.m. followed by a dance party from 7 a.m. to 9 a.m. Participants are encouraged to sign up at daybreaker.com/event/this-is-boston/.
The campaign comes as New Balance this year replaced Asics as the principal partner, apparel provider, and outfitter of the New York City Marathon and other New York Road Runners events as part of a ten-year agreement. In Boston, Adidas has sponsored the Boston Marathon since 1989 and in 2009 extended its partnership with the Boston Athletic Association to 2022. With Adidas' sponsorship, New Balance often earns attention for running massive campaigns around the Boston Marathon while being prohibited from using the word "marathon" in its marketing.
When Adidas first sponsored the Boston Marathon in 1989, the race had 6,458 entrants. In 2016, 30,741 participated in the race.
Photos courtesy New Balance