Fall hiking season is coming, and that means it's time to load up your daypack with all that stuff you forgot during the golden season of long days and abundant sunshine.
Writer: Carly Terwilliger
No gear is more important for exploring in unpredictable weather than a lightweight, reliable wind- and waterproof jacket. There are plenty of choices on the market, but a new and somewhat unexpected player has stepped onto the field.
Maine-based Hyperlite Mountain Gear, a manufacturer of made-in-the-USA ultralight outdoor equipment, launched its first-ever outerwear product with The Shell, a featherweight technical jacket weighing in between 5.16 and 6.20 ounces, depending on the size.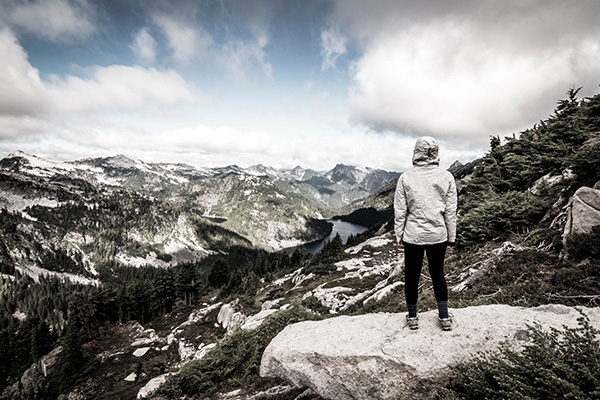 "Our goal was to design a jacket that was so light and functional that there was no reason not to bring it on every trip," said Mike St. Pierre, founder and CEO of Hyperlite Mountain Gear, who began testing a prototype of the jacket in 2015 during a thru-hike of the Grand Canyon.
Better known for its packs and shelters, Hyperlite Mountain Gear's products utilize Dyneema fabrics incorporated with man-made fibers that are 15 times stronger than steel in weight per weight ratio. Working closely with Dyneema, St. Pierre helped test and refine a highly durable, waterproof breathable fabric for The Shell.
The fabric achieves the optimal balance of weight and durability consistent with all Hyperlite Mountain Gear products, while the Event membrane provides the waterproof, windproof and high-breathability characteristics achieved only through Event's patented air permeable waterproof technology.
Features of The Shell include a low-profile stuff pocket, a waterproof zipper and a clip-in point, making it an attractive option for climbers or any sport that requires quick access to weather-beating protection. It also sports a helmet-compatible hood, stiff hood brim, and Velcro adjustable cuffs.
We asked CEO Mike St. Pierre about the new addition to the Hyperlite family.
Since the prototype has been kicking around since 2015, why is now the right time for The Shell? Hyperlite Mountain Gear's new product launch policy, which is of utmost importance to me, is to never launch new products until they are well-tested and ready. We made a few minor launch miss-steps in our very early days and quickly learned that if a consumer is going to pull the trigger on a new innovative product of ours, particularly when they are so different from traditional alternatives, they need to trust our brand. And the best way to gain trust is to consistently have your products perform how you say they will – exactly.
Specifically regarding The Shell, we saw potential in the innovative fabric technology several years ago, but did not have 100 confidence in the performance of the fabric's early versions. There was enough confidence to continue developing, building and testing prototypes, but not enough to launch and potentially face product failure issues. A few other small companies did try using the fabric in products early on but now most of those products are no longer available. DSM Dyneema, however, did a great job continuing to refine their technology, as they always do, and after my last Grand Canyon trip in early 2017, over two years after building our first prototype, I gained the high confidence required to advance The Shell into product launch phase.
Is this the beginning of more outerwear – or even other types of apparel – for Hyperlite Mountain Gear? Our goal is to design and launch products that are absolute necessities for backcountry travel. I'm not a fan of launching new products each year just for the sake of launching new products. A shell is a must-have piece of gear for any outdoor adventurer, and we saw room for innovations on the hardshell jackets that are currently on the market. So at this point, I'm not willing to commit to further outerwear or apparel launches. However, I can say that we will continue to build and launch innovative, high-tech, modern versions of products that are essential for travel in the backcountry. And that may or may not include further outerwear launches.
Where do you see The Shell being positioned in the overall outdoor technical outerwear category? The Shell is obviously priced as a premium product. However, the premium positioning has much more to do with technology than price. DSM Dyneema fabric technology is, in our opinion, the best new material technology advancement for the outdoor industry in years. This holds true for tents, backpacks, accessories, and now outerwear.
The Shell fabric is extremely durable, has outstanding breathability and feels like a pair of socks in your pack, in terms of weight. So there's no reason not to take it with you on every trip. Some consumers think Dyneema-based products are exorbitantly priced, but new technology is always more expensive than traditional technology, at least until demand increases enough for raw material costs to decrease from economies of scale. But that does not change the fact that you get what you pay for.
Product characteristics of new technologies are always better than traditional technologies, otherwise they never get off the ground. And the products that Hyperlite Mountain Gear produces enable me, and many other outdoor adventurers, to experience and perform in the outdoors in a way that was never previously possible. So this jacket, like most of our products, has premium positioning. But if you engage in these outdoor activities enough, it is more than worth the price.
In addition to selling it on the Hyperlite Mountain Gear site, how will it be distributed? We do have retail partners in the U.S., Europe and Asia who sell our gear. These partners should be stocked by the beginning of the new year and we are thrilled to be working with these specialty retail shops where customers can touch and feel our relatively new technology. With that said, though, online retail continues to grow at the expense of brick-and-mortar retail and more and more companies in every industry continue to see their direct business growth outpace their wholesale. So unless you live near one of our retail partners, the easiest and quickest way to get your hands on The Shell will be to come see us directly online.
The Shell is available to order at hyperlitemountaingear.com.
Photos courtesy Hyperlite