Luna has begun a transition to an entirely gluten-free product line after a two year quest to find gluten-free recipes that still meet its taste and nutrition standards.
The decision comes as U.S. sales of gluten-free foods soar. Research published by Mintel Nov. 18 estimated that sales of gluten-free snacks are expected to reach $2.8 billion this year, up 163 percent from 2012, although the bulk of the increase came from the gluten-free potato chips.
The company, which is owned by Clif Bar, said its new gluten free bars will taste the same and provide the same nutritional benefits.
We recognize that some women were not able to enjoy Luna bars because of gluten sensitivities or celiac disease, said Tara DelloIacono-Thies, Registered Dietitian and manager of nutrition strategy for Luna. Were thrilled that we can now share our bars with all women – its just one more reason to fall in love with Luna.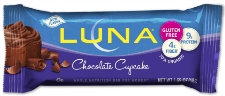 To celebrate the change, Luna introduced a new flavor Tuesday: Chocolate Cupcake.
In 2010, Luna introduced its first gluten free option, Luna Protein, which was immediately embraced by the gluten free community. Since then, Luna has been on a two-year journey to make the transition to an entirely gluten free portfolio, taking care to preserve the bars taste, quality and nutrition, and ensuring the ingredients meet Clif Bar & Company standards.
The gluten free ingredients in our new bars are sourced from our trusted farm suppliers, explained DelloIacono-Thies. We work closely with our suppliers to ensure that we are sharing the highest quality products with our consumers.
Luna is marking the new gluten-free bars with a bright pink gluten free burst on wrappers and boxes.
Mintel estimates that 22 percent of Americans currently follow a gluten-free diet, compared to 15 percent in 2013, although there is no evidence that gulten related illnesses such as celiac disease have increased during that period.
Gluten-free products appeal to a wide audience; 41 percent of US adults agree they are beneficial for everyone, not only those with a gluten allergy, intolerance, or sensitivity," Mintel Food Analyst Amanda Topper said earlier this month. "In response, food manufacturers offering either gluten-free alternatives or existing products with a gluten-free label have increased dramatically over the last several years."
The gluten free label adds to Luna's six other defining characteristics, which include:
Low glycemic
Under 200 calories
8-10 grams of protein
3-5 grams of fiber*
Made with 70% organic ingredients
Made with no artificial flavors or synthetic preservatives