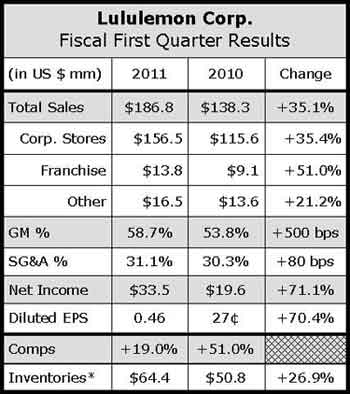 Lululemon Athletica Inc.'s first quarter earnings jumped 70.4 percent to $33.4 million, or 46 cents a share, for the fiscal first quarter and the yoga-themed retailer once again hiked estimates for the year. Results exceeded Wall Street's consensus estimate of 38 cents a share.


Revenues increased 35.1 percent to $186.8 million. Comps increased 16 percent on a constant dollar basis. Also driving sales was the addition of 12 net new corporate-owned stores in North America since Q1 last year; the consolidation of Australian operations, which now includes five showrooms and 12 stores; and the addition of 17 net showrooms opened in the U.S. since in the last 12 months. Direct-to-consumer revenue (e-commerce/catalog) increased 51 percent to $13.8 million. Finally, the stronger Canadian dollar increased reported revenues by $4.3 million or 3.1 percent.

On a conference call with analysts, Lululemon CEO Christine Day said the quarter came in better than projected as the retailer was able to overcome low inventory levels. While February was strong, inventory constraints held back sales in March before April showed a rebound as the company successfully chased and refilled inventory levels. The improvement was also attributed to maximizing the productivity of the inventory on hand both in sales and gross profit dollars.

With the focus on productivity, Lululemon's trailing 12 month's average sales per square foot in comp stores reached new highs, to just over $1,800, up from $1,428 in the year-ago period.

"We believe there is room for continued productivity increases as we build our inventory position, invest in our stores and our people, and execute our strategy," added Day.

She also said the retailer had a "relatively smooth transition" in its move to take its e-commerce platform in-house.

"It took a little longer than expected to merchandise our online catalog by about two weeks, but we are now to a point where our online store is matching our retail stores about as much as we want it to," said Day. "Our online store inventory will be in a good position to support a strong back half of the year, so while we planned e-commerce down as a percentage of revenue through the transition, we already see it climbing back towards a 10 percent run rate and expect to be close to a 10 percent of total revenue for the full year."

Gross margins increased 490 basis point to 58.7 percent of sales for the quarter. Excluding a one-time adjustment related to a previously-unrecorded benefit of certain input tax credits from previous periods, LULUs normalized gross margin in the latest quarter would have been 57.3 percent of sales.

Product margins improved 90 basis points as higher product costs due to higher raw materials and labor costs, along with higher airfreight to accelerate product deliveries, were more than offset by reduced markdowns and lower shrink, obsolescence, and damaged inventory provisions. Leverage on non-merchandise costs such as occupancy, depreciation, and product and supply chain team costs including the efficiencies from a new distribution center in the U.S., contributed 190 basis points of improvement. Foreign exchange improvement of 70 basis points was due to a stronger Canadian dollar.

Looking ahead, Day said Lululemon's "richest opportunity" is maximizing the size curves and seasonal allocation of product to its stores. Innovation in its yoga and run lines are also seen as ongoing major growth drivers.

"We are in the fortunate position of being able to manage the rate of innovation and keep a strong pipeline ready for execution," said Day.
The retailer also revealed plans to ramp up its online presence through social media, Web advertising and mobile applications and expects online sales can reach 15 percent or more of total sales in the near term. Day sees the website as an avenue to reach more consumers than it can through its stores as well as well as a way to display more product. "We can carry product lines a little bit longer, we can bring back the classics – there's so many things we can do, like line extensions, that we dont have the opportunity to do because of the size of our stores," Day said.

For Q2, revenues are now expected to be in the range of $200 million to $205 million based on a comp increase in the mid- to upper-teens on a constant-dollar basis. EPS is projected in the range of 42 to 44 cents a share, which compares with 30 cents a year ago.

For 2011, Lululemon now expects revenue to be in the range of $915 million to $930 million and EPS in the range of $2.10 to $2.16 cents. In 2010, LULU earned $1.57 a share.