Lululemon Athletica's first quarter earnings tripled from a year earlier and came in well ahead of company projections, leading to a stronger outlook for its current year. On a conference call with analysts, company CEO Christine Day said the quarter was the company's "best ever," marked by trailing 12-month average sales per square foot reaching $1,428 versus $1,318 in the year-ago period.

Comps jumped 35% on a constant-dollar basis, well ahead of the company's forecast of an increase in the "upper 20%" range. Comps were particularly boosted by strong momentum in its 2008 age class of U.S. stores.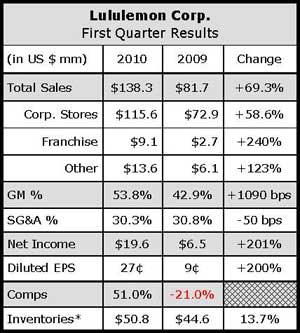 Net earnings reached $19.6 million, or 27 cents per share, on sales of $138.3 million, handily beating its projected earnings of 18 cents to 20 cents a share on revenue of $125 million to $130 million. A stronger Canadian dollar boosted reported revenues by $13.5 million, or 11%.
Yoga and run continued to lead sales demand but strong growth was also seen in equipment and accessories, including mats. Men's is up 40% to date.

Corporate-owned stores grew 58.6% to $115.6 million, representing 83.6% of revenues. Eleven new owned-retail stores were added since last year, including four in the quarter. LULU now has 114 stores.
Direct-to-consumer, which includes e-commerce and phone sales, grew to $9.1 million, representing 6.6% of sales, from $900,000, in Q1 last year. Day said e-commerce, launched last year, has already become a key growth vehicle and is on track to achieve LULU's stated objective of 10% to 12% of total sales.

Other revenue, which now includes franchise as well as wholesale, showrooms, and outlets, totaled $13.6 million in the quarter. LULU opened 14 showrooms in Q1, and will open 30 more between Q2 and Q3, for 44 total new showrooms this year to the 14 existing at the end of 2009. LULU has 14 franchises in total, including nine in Australia.
Gross margins grew to 53.8% from 42.9% a year earlier. Merchandise margin improved 480 basis points. Improved product costing on spring merchandise and strong sell-through reportedly resulted in very low markdowns. Leverage on occupancy, depreciation, and product and supply chain team costs contributed 410 basis points of improvement. Foreign exchange improvement of 200 basis points was due to a stronger Canadian dollar.

SG&A increased to $41.9 million from $25.2 million, but shrank 50 basis points as a percent of sales.

Day said that the company is working on doing a better job flowing product to its multi-channel business, especially e-commerce.
"We also delayed showroom openings to divert product to our retail stores and to secure the right locations," said Day. "And while we have made strong progress in our system and people capacity, we are still at the early stages of building the infrastructure for a multi-channel business that is responsive and nimble as we need to be to outperform in today's macro environment."

A new distribution center in Sumner, WA is up and running in parallel and will begin deliveries to its U.S. stores next week.

Day discounted a rumor that Lululemon was opening a London store. But she noted that its move during the quarter to acquire majority ownership of its Australian business represents "a great opportunity to test our ability to grow and support a strategic international expansion, as one of our longer term growth opportunities."

David Lawn, former Rip Curl CEO, heads the Australian business.
Asked about product costs, management said cotton and nylon pricing is rising, and the costs of Chinese labor are also heading upwards. Steps are being taken, including manufacturing in some lower cost countries, to minimize the margin impact. The company is looking to shift from about 7% to about 27% of its goods being manufactured in Southeast Asia, primarily Vietnam, Cambodia and Bangladesh. Its goal is to reduce sourcing from China from 75% to 50% over the next several years.

For the second quarter, Lululemon expects revenue of $140 million to $145 million, comp gains in the "mid-20s" on a constant-dollar basis, and earnings of 21 cents to 23 cents a share. The mean estimate by analysts was 21 cents a share on revenue of $133 million.

For its current fiscal year, revenue is projected to reach $620 million to $635 million, a comp increase in the mid teens, and earnings of $1.05 to $1.10 a share, which is up from its previous projections for revenue of $570 million to $585 million and earnings of $1.00 to $1.05. Twelve new stores have been confirmed to open in North America, with the possibility of up to 15 for the year.