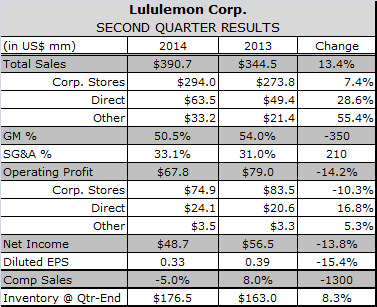 Lululemon Athletica Inc. beat its second quarter guidance by selling through a line of fall apparel faster than expected, but reported a sharp reversal in same-store sales. Margins suffered as the company boosted spending 21 percent to open stores, a new distribution center and overseas showrooms while fending off a proxy fight with its founder and shareholder lawsuits focused on his sales of company last year.
The once high-flying Canadian apparel maker, which is widely credited with triggering the "athleisure" fashion trend, reported total sales increased $46.2 million, or 13.4 percent, to $390.7 million in the second quarter ended Aug. 3. Nearly 44 percent of the sales increase came from its corporate owned stores, 30.6 percent from its direct-to-consumer (DTC) channel and the balance from Other, which includes sales from showrooms, sales to wholesale accounts, outlets and warehouse sales. Men's comps were up 5 percent, while women's were slightly negative. LULU establishes showrooms in a market about a year in advance of opening a store to recruit local yoga and fitness instructors and build brand awareness.
Comparable store sales swung from robust c-n growth of 8.0 percent in 2013 to a sharp drop of -5.0 c-n in the most recent quarter. While traffic turned positive for the first time in several quarters, lower conversion rates and average basket price weighed on comp store growth. Still, sales per square foot at new stores approached $1,100 to $1,200 per square foot, Currie said. About 1 percent of store sales now come from online orders employees place for customers using iPods deployed to store employees late last year.
DTC sales increased 28.6 percent to 16.2 percent of net revenue, up from 14.3 percent in the year earlier quarter. The increase was driven almost entirely by increased traffic rather than improved conversion rates or average order value. When blended, the store and DTC comp rates resulted in flat overall comps growth in the most recent quarter.
Chasing seasonal trends
While the results pale compared with the 18-25 percent growth in same-store sales LULU routinely reported from 2010 to 2012, they were better than LULU expected and reflect the success of the company's strategy of shifting more of its open-to-buy money from core to seasonal product so it can chase fashion trends.
"We were able to deliver above our Q2 expectations coming into the quarter due to strong performance of Fall transition product that we were able to pull forward from Q3 to drive sales in July," explained CFO John Currie
Potdevin insisted the Lululemon brand continues to command unusually strong customer loyalty. Last month, for instance, 50 percent of the participants in its SeaWheeze 1/2 Marathon in its home town of Vancouver, British Columbia came from outside Canada.
"In fact, registration for 2015 took place yesterday and sold out in 36 minutes," Potdevin said.
LULU launched "White Space Workshop" during the quarter to leverage that brand loyalty to stay ahead of the growing competition. The initiative connects LULU designers and about 1,000 brand ambassadors online for the co-creation of and testing of new products as well as general sharing and feedback.
"Weve done a lot of work in having the white space and the ambassadors collaborate in looking at new activities, looking at problems they want to solve during their activities," said Potdevin.
Gross margin down, SG&A up
Gross margin declined 350 basis points (bps) to 50.5 percent in the fiscal second quarter ended Aug. 3 compared with the second quarter of 2013.
SG&A surged by $22.5 million, or 21 percent, to 33.1 percent of revenue compared with 31.0 percent in the fiscal third quarter of 2013. Employee costs and "Other costs" each accounted for $8.4 million of the increase with the remaining $5.7 million be attributed to higher spending on variable store and direct-to-consumer costs, head office and strategic initiatives. LULU is currently in the final stages of filling senior management positions in human resources and branding and community and half way through its search for a new CFO and a managing director of Europe.
Included in other costs was $1.3 million of foreign exchange loss, compared with a gain of $4.0 million a year earlier; depreciation; and occupancy costs, which increased with the opening of the company's new distribution center in Columbus, OH.
Operating profit declined 14.2 percent during the quarter, to 17.35 percent of revenues, down from 28.9 percent a year earlier.
Shareholder lawsuits question Wilson's trades
LULU did not report what it spent on legal and professional fees during the quarter, but its 10Q filling updated the status of shareholder lawsuits filed between May and October, 2013. Plaintiffs attorneys in each of the lawsuits is seeking documents related to LULU's handling of its March, 2013 recall of Luon fabric yoga pants, which contributed about 17 percent of the company's sales at the time. The lawsuits are also seeking documents related to stock sales LULU Founder – and then chairman – Chip Wilson made days prior to June 10, 2013, when the company announced CEO Christine Day had resigned. As of Friday, LULU's stock price had declined 53 percent since the Day announcement, wiping out $5.4 billion in shareholder equity.
Regardless of who prevails, LULU noted in its quarterly filing that the litigation could be expensive and divert resources away from the company's operations and negatively impact earnings.
LULU ended the quarter with 8 percent more inventory, 18.8 percent more cash and aggressive expansion plans abroad. It expects to open a second store in London in December and on track to build a network of showrooms across Europe and Asia this year and next that will lay the groundwork for the opening of 20 stores in both regions by the end of 2017.

Outlook
For the third quarter of fiscal 2014, LULL expects net revenue to be in the range of $420-$425 million based on a total comparable sales increase in the low single digits on a constant-dollar basis. That compares with sales of $379.9 million in the third quarter last year, when the company reported comparable stores sales grew 2.0 percent. Diluted earnings per share are expected to be in the range of 36-38 cents for the quarter compared to 45 cents a year earlier. The guidance assumes no change in diluted weighted-average shares outstanding and a 30.2 percent tax rate.
Chief Product Officer Tara Poseley said the company laid plans a year ago to enhance its ability to chase the most popular colors and prints with seasonal products.
"What we did for Q3 was really shift that core investment and open-to-buy into the seasonal product," said Chief Product Officer Tara Poseley. "We continue to really focus with the design team on making sure were getting all of that beauty and technical, always technical, back into our product because we are very proud that we are the originators of that and in this space."
For the full fiscal 2014, LULU is forecasting net revenue to be in the range of $1.78-$1.80 billion based on a total comparable sales increase in the low single digits on a constant-dollar basis. That would represent revenue growth of about 12 percent.
Beyond that, LULU will increasingly look overseas for both sales growth and margin improvement. The company will open a second store in London and its first stores in Singapore, Hong Kong and Shanghai in the coming year. Sales at showrooms are running well ahead of what they were in the United States in 2009.
"Singapore, Hong Kong, Shanghai, those show rooms are very strong, which is an indication that they had already been brand awareness in Asia," said Currie, who announced in June that he would retire as CFO by the end of the year.
The company is also revamping its global supply chain to enable it to respond more quickly to sales and fashion trends, reduce air freight costs and create other efficiencies that can help restore gross margin to the mid-50 percent range.