In spite of the negative press flying around the VitaSea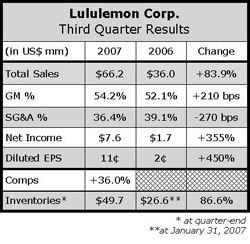 fabric and the resume of Lululemon's CEO, the company was able to again post strong double-digit sales and earnings gains in the third quarter. The direct retailer's top line was bolstered by a 68% increase in its corporate store base coupled with a 36% comp store sales increase. Currency fluctuations caused by the weakening U.S. dollar contributed roughly 10 percentage points to comp sales, which increased 26% on a constant dollar basis.

At the end of Q3, Lululemon stores were generating $1,526 per square foot for comp stores. Management also said that new, non-comping stores performed "well above expectations" for the quarter.

Other revenues, which include franchise, wholesale, phone sales and sales from showrooms, totaled $6.2 million a decline of 8.9%, which was a direct result of the buyback of three Calgary franchise stores in April of 2007.

Management said that the running business continues to grow very rapidly and that there has been "very strong growth" in the men's business. LULU's bra business had been lagging last year, but has started to catch up with the implementation of a new fitting program this year. The newly launched outerwear program is expected to completely sell through in the next three to four weeks, which is slightly ahead of expectations.

Following the allegations in the New York Times concerning the performance and fiber content of LULU's VitaSea fabric, the retailer offered to accept any returns of the products for a full refund. Management said that there may have been a few returns, but the Times article was inconsequential, and had no impact on sales of VitaSea, which accounts for only about 1% of LULU's sales.

Lululemon is looking at expanding its product offering into new areas. While they will continue to focus primarily on yoga, LULU will be addressing the fitness and exercise market, the cycling market and the swimming market. The retailer is also looking at more running gear and general exercise gear. They will also expand their outerwear collection and their accessories offering.

Gross profit expanded by 210 basis points due to strong merchandise margins, coupled with leverage of design, production and occupancy costs due to higher sales. There was also some benefit from the fact that a lot of LULU's sales are in Canadian dollars and from improved purchasing, from the sourcing and production team. Management expects to see similar margins going forward.

SG&A expenses declined as a percentage of sales due to the leveraging of administrative costs and depreciation. This was partially offset by increased store expenses related to a higher concentration of new store openings during Q3. The result of gross margin expansion and SG&A leverage was an operating margin expansion of 480 basis points to 17.9% of sales compared to 13.1% a year ago.

Lululemon now expects fiscal 2007 net revenue to be in the range of $255 million to $260 million. This assumes comp store sales growth in the high 20's for the full fiscal year or in the low 20's on a constant dollar basis. It also assumes fourth quarter comp sales growth in the 30% range, or 15% on a currency neutral basis and 10 new stores opening in Q4. Operating margin for the year is expected to be approximately 18.5%. EPS for the year will be in the range of 40 cents to 42 cents up from previous guidance of 30 cents to 33 cents.