Lululemon Athletica's earnings more than doubled in the fiscal second quarter ended Aug. 1, driven by a 31% hike in comp-stores sales on a constant-currency basis. Earnings of 30 cents a share easily surpassed Wall Street's consensus estimate of 24 cents and the yoga-themed retailer raised its EPS and revenue forecast for the full year.


On a conference call with analysts, company President and CEO Christine Day said the comp improvement was again driven by traffic and transactions, "which we believe is simply a continued increase in brand recognition and proof that our community effort and overall strategy and market positioning are resonating with our guest."
Strength was seen across its strength in core lines of run and yoga.
"Running is so strong for us, as well as our core yoga business, that at this point in time, we're going to probably hold any major innovations, or diverting our energies into any additional categories," said Day.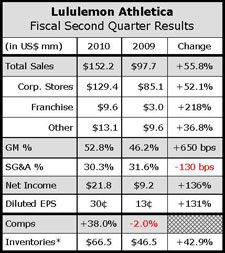 Sheree Waterson, Lululemon's EVP, general merchandise management and sourcing, added, "The great news about running is that we have key items emerging that are really driving revenues, and allow us to get our arms around some consistent foundation for that business. As well as the fact that we are also introducing some line extensions, quarterly, so that we can see other new trends in the technical business."
Along with core running and yoga items, socks and underwear inventories are being increased. Bags and outerwear also continue to see strong demand. The retailer also benefited from improved inventory position in core and key items, in particular sizes two, four and six.
Sales per square foot are now over $1,530/sf, above its IPO levels of $1,447/sf.

While Day said that all age classes are delivering positive comps, the strong increase is led by the accelerating growth of its newest age classes. Lululemon's 2008 age class of U.S. stores in particular performed "well above" the company's comp average.

"What's happening is where, during the recession, the U.S. stores that opened in such a tough environment were lagging behind, they now seem to be catching up, and back on or ahead of the trajectory that we expected, and that we years ago saw as we expanded throughout Canada," said CFO John Currie.

By segment, revenues at corporate-owned stores grew 52.1% to $129.4 million. Revenues from the direct-to-consumer channel, which includes e-commerce and phone sales, more than tripled to $9.6 million from $3.0 million in the year-ago period. Other revenue, which includes franchise, wholesale, showrooms and outlets, totaled $13.2 million, or the remaining 8.6% of revenue for the quarter.

The overall sales increase reflects the addition of 12 net new corporate-owned stores in North America since Q2 last year, which includes the Saskatoon franchise in Canada acquired late in Q2 this year. The gains also reflect the acquisition of its Australian operations, and the addition of 32 net new showrooms opened in the U.S. since Q2 last year.

A stronger Canadian dollar increased revenues by $6.9 million, or 4.8%, for the period.

Twelve new stores are planned for North America this year along with two in Australia. LULU ended the quarter with 130 stores versus 115 at quarter-end last year.

The vertical retailers also opened 28 showrooms in the first two quarters and plans on opening a total of 46 in North America by the close of the year.

Day said that although e-commerce more than doubled in sales and represented about 7″% of sales. But Lululemon was "again constrained" by inventory shortages although online inventories are expected to be in line with demand for fall.

Gross margins increased 660 basis points to 52.8% of sales. Merchandise margin improved approximately 200 basis points, driven by improved product costing on its summer merchandise, with some offset due to a return to a more normalized rate of markdowns. Leverage on non-merchandise costs such as occupancy, depreciation and product and supply chain team costs contributed 240 basis points of improvement. Foreign exchange improvement of 220 basis points due to a stronger Canadian dollar.

Inventory at the end of the second quarter was up 43% but in line with its expected year-over-year increase in forward sales, with better depth in key and core styles and in sizes 2, 4 and 6 to capture missed sales that the retailer saw in the past due to early stock-outs.

For the third quarter, it expects revenue to be in the range of $155 million to $160 million with comp increases in the high teens on a constant dollar basis. Third-quarter EPS is expected to range between 22 cents to 24 cents a share, which compares with 20 cents earned a year-ago quarter. Full-year EPS are expected to range between $1.18 to $1.22, up from its earlier forecast of $1.05 to $1.10. Annual revenue is projected to range from $645 million to $650 million, up from a earlier projections of $620 million to $635 million.

For 2011, Lululemon expects to open 20 to 25 new stores and has set a goal of having e-commerce reach 10% of sales in the near term.