Loudmouth Golf, whose brightly colored golf pants and shirts enable golfers to "play LOUD!" has appointed former Disney, Hurley and Nike executive, Dennis Green as president effective Wednesday.
Green will spearhead Loudmouth's growth plans in the golf and lifestyle markets globally. His background and experience will be instrumental in helping take Loudmouth to the next level. In addition, Green will oversee the strategic direction, expansion and operation of Loudmouth's licensing, sales and marketing divisi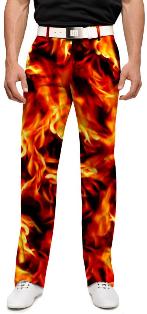 ons. Dennis initially joined the Loudmouth team as EVP-GM of Sales & Marketing at the beginning of this year.
"The potential of the Loudmouth brand is immense," says Green. "Loudmouth has brought an innovative design aspect to the golf industry, and I look forward to helping drive that fun vision to a lifestyle brand."
Dennis started his career in branding, sales and marketing 22+ years ago and has worked in the consumer and apparel industry ever since. Most recently he was the managing partner at Indexla, where he led branding and design efforts for several Fortune 500 companies. Prior to that, Green served as SVP of Global Product at Hurley, SVP of Global Creative for Disney Consumer Products, Director at Nike, and VP of Sales and Merchandising for Cherokee Apparel. In his various positions, Green was instrumental in increasing sales and profitability, as well as developing relationships with global retail chains and building world-class brands.
Based in Foster City, CA, Loudmouth Golf has distinquished itself in the staid golf market by making golf apparel and accessories with bright colors and prints of "questionable taste" that enable its customers "to play LOUD!."