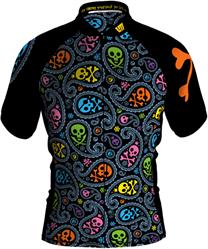 Wowee Wear's initial line of cycling jerseys use Loudmouth best selling patterns, including the Jolly Roger
Loudmouth is collaborating with Wowee Wear to launch a line of men's and women's cycling jerseys featuring the same loud colors and patterns Loudmouth used to break into the golf apparel market.
The collaboration enables Wowee Wear to begin selling jerseys while it develops its own patterns.
"While Wowee Wear will be creating some designs of our own, such as Camo Fail and the soon-to-be-released Apeshirt, we are thrilled to introduce Loudmouth's Drop Cloth, Magic Bus, Jolly Roger and Shagadelic Black," said Wowee Wear Founder Howie Milstein.
The jerseys are made from a lightweight fabric, with moderate stretch and high wicking capacity to keep your core cool during sweaty rides and available in Loudmouth's most eye-catching patterns: Shagadelic Black, Drop Cloth and Jolly Roger; and two women's jerseys in short sleeve and sleeveless in XS – XL in Magic Bus.
"We are proud to be building our business through the Loudmouth brand, bringing their mind-blowing designs to unsuspecting bicyclists throughout the U.S.," said Milstein. "The core values of Loudmouth, clearly expressed through their products, marketing and employees, are strongly-aligned with our own. This will be a wild and fun endeavor!"
Milstein founded Wowee Wear in bid to inject some color and levity into the often serious world of cycling.
"Wowee Wear is for people who are done taking themselves so seriously, and for whom the coffee and cinnamon roll mid-ride are just as important (maybe more important) than the ride itself," he writes on the company's website. "However, this stuff is technically high-performance, so wear it at your next club ride or century if you want."