L.L.Bean Inc., which opens its first two stores in Ohio this month, announced it will open a third in the state in Cincinnati in fall of 2016 at The Kenwood Collection, a mixed-use development located adjacent to the Kenwood Mall in Kenwood, OH, just outside of Cincinnati.
The 15,000 square-foot store will feature an assortment of active and casual apparel and footwear, as well as outdoor lifestyle gear including hiking, fly-fishing, kayaking and winter gear and camping products. The store will employ approximately 100 people.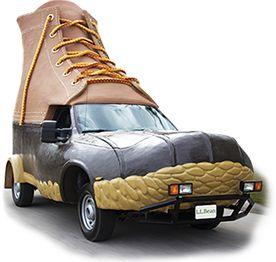 This will be L.L.Bean's third store in Ohio and its 27th retail store outside of Maine. Current L.L.Bean Ohio locations include stores at Legacy Village, just outside of Cleveland and at Easton Town Center, just outside of Columbus, both of which open this month. The retailer will celebrate the opening of the Columbus store Saturday by sending one of its Bootmobiles to the Ohio State-Michigan State game. Another will be on hand at the store starting today.
"A lot of people in the Cincinnati area may only know us through our catalog or web site, so our new store will give folks the chance to see, feel and experience L.L.Bean in real-life," said Ken Kacere, senior vice-president and general manager of retail at L.L.Bean. "We're excited to be infusing a bit of the Maine essence and the L.L.Bean brand into the Cincinnati area. And with all of the great outdoor activities that abound, from paddling and fishing on the Little Miami River and cycling through Devou Park, combined with people's awareness and appreciation of L.L.Bean and all that we stand for, we know this store is going to be a great home for us."
L.L.Bean made the decision to expand its retail presence into Ohio as part of its overall retail expansion plan and due to the high level of brand affinity the area residents have for L.L.Bean. In addition, the area is also in proximity to several abundant natural resources and multiple opportunities for many outdoor activities, as well as a population base that enjoys regularly engaging in a variety of outdoor pursuits. The store will allow the people of Warren and Hamilton counties and beyond to experience first-hand everything that the legendary outdoor retailer has to offer, such as quality merchandise, a welcoming shopping environment and a large roster of ongoing demonstrations and clinics on a number of outdoor topics.
Of particular note will be the inclusion of L.L.Bean's Outdoor Discovery Schools, which will offer demonstrations, clinics and introductory hands-on activities like snowshoeing, kayaking, stand-up paddleboarding, archery and fly casting, all designed to make it easy for people to engage in outdoor activities for health, fitness and recreation. L.L.Bean Outdoor Discovery Schools' courses are offered at every L.L.Bean Retail Store. In 2014, over 130,000 people participated in these programs.
"We are extremely excited to add the iconic brand of L.L.Bean as a destination retailer for the Kenwood Collection," said Mike Phillips, CEO and President of PECO Real Estate Partners.