Keen Inc collected more than 30,000 petition signatures and rallied support from more than 40 local businesses this summer during a 7,500-mile road trip that culminated in a reception on Capitol Hill to rally support for public lands.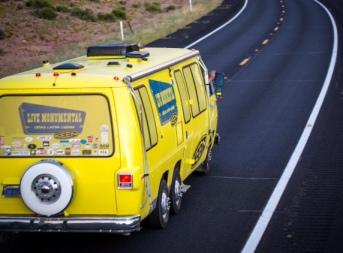 Keen's 1976 GMC Live Monumental RV traveled more than 7,500 miles in nine weeks to rally
support for public lands this summer.
At its core, Keen's Live Monumental campaign was designed to engage
people across the U.S. to rally support for public lands, enjoy their
natural surroundings, and have lots of fun in the process. One key objective of the tour, which centered around a renovated 1976 GMC RV, was to urge the Obama Administration to designate five national monuments, including:
Mojave Desert, CA,
Owyhee Canyonlands, OR,
Birthplace of Rivers, WV,
Boulder-White Clouds, ID, and
Gold Butte, NV.
A victory during the campaign came on Aug. 7 when Idaho's majestic Boulder-White Clouds was permanently protected as Wilderness.
From collaborating with local, regional, and national
organizations to raising awareness of the value of public lands in communities large and small, to sitting down with government policy makers at
the local, state, and federal levels, the Live Monumental tour set a strong
foundation for 2016, when Keen will repeat the tour and celebrate the
100th anniversary of the National Park System.