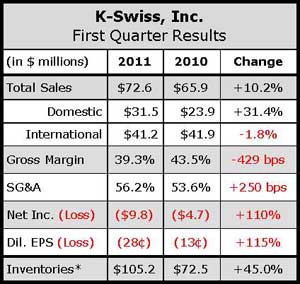 While K-Swiss, Inc. remained in the red in the first quarter due to heavy marketing investments, but the brands top-line gains driven by its Tubes collection are offering some hope for a recovery.

Most encouraging, future orders at quarter-end were up 45.0 percent. Domestic futures were up 62.0 percent to $47.2 million while international futures increased 33.6 percent to $58.0 million.

On a conference call with analysts, Steven Nichols, chairman, CEO and president, cautioned that while improved backlogs and quarterly growth were a "welcome relief," the real test will be bookings for the second half of this year for 2012 selling. "Until then, well keep feeding the marketing machine and extend our leadership and innovation," said Nichols. "We have much work to do to sustain this momentum."

Sales in the first quarter ended March 31 rose 10.2 percent to $72.6 million, marking the first time K-Swiss delivered two consecutive quarters of top-line increases in more than four years. Domestic revenues increased 31.4 percent to $31.5 million; International revenues decreased 1.8 percent to $41.2 million. At-once business for the quarter was 27.9 percent of sales versus 26.0 percent in Q1 last year.

Revenues in the K-Swiss Performance segment – tennis, running, and training footwear-jumped 69 percent and represented 43 percent of sales in the first quarter. Top sellers were the Tubes Run 100, which sold 246,000 pair; Grand Court Two, 79,000 pair; and ST329, 63,000 pair. Lifestyle revenues were down 30 percent and accounted or 33 percent of revenues. Top sellers were the Classic, 184,000 pair; Court Comfort, 53,000 pair; and RV1.5, 50,000 pair. The Other segment-including apparel, Form Athletics and Paladium-was up 23 percent and represented 24 percent of sales.

For the K-Swiss brand, the average wholesale price per pair increased to $29.31 in Q1 compared with $27.21 in the prior-year period.

Internationally, European sales were down 14 percent but futures increased 35 percent. Sales in Asia were up 23 percent with a 48 percent increase in futures. Europe accounted for 32 percent of revenues in the quarter; and Asia, 16 percent.

Broken down further, futures orders were up 36.9 percent for second quarter delivery and 51 percent for third quarter delivery. Domestic futures orders were up 57.8 percent for Q2 and up 66.5 percent for third quarter. International futures orders were up 16.8 percent for Q2 and up 43.1 percent for the third quarter.
Palladium backlog, reflecting a new brand positioning, was up 82 percent in the U.S. and jumped 218 percent in Europe, excluding France.

The net loss swelled in to $9.8 million, or 28 cents per share, in Q1, from a loss of $4.7 million, or 13 cents, in the prior-year period, due to marketing and launch costs. SG&A increased to 56.2 percent of sales versus 53.6 percent in Q1 last year and grew $5.5 million in dollars. Gross margins were reduced to 39.3 percent of sales from 43.5 percent due to increased inventory and royalty reserves and greater discounts given to customers due to production delays from factories.

On the call, EVP David Nichols said marketing initiatives around reality-TV fitness icon Jillian Michaels helped the Tubes collection become a top seller at Lady Foot Locker, and "we noticed a sales jump at many other retailers." The new Jillian Michaels fitness and lifestyle apparel line launched in April is seeing "very strong" editorial interest. It's being sold at select Nordstom stores and on Amazon.com.

"Tubes are in most of our retailers," said the senior Nichols. "The results are somewhere between very good, good, and medium." But he noted that Tubes marked the first time a shoe outsold the K-Swiss Classic in a quarter, adding that "all the trends are in the right place with Tubes."

Still, he thinks the Blades running collection "will end up being significantly stronger than Tubes" with the ability to crossover from lifestyle to performance running. Nichols called the Quickie Blade Light running shoe, launched at the K-Swiss-sponsored L.A. Marathon, "the darling of many specialty running shops." Retailing at $130, the Quickie was cited as the best debut in Runner's World's spring 2011 shoe guide.

David Nichols said Blades early success as well as aggressive triathlon sponsorships are designed to further position K-Swiss as "an authentic sports brand, an authentic running brand, so that ultimately we can sell product at Foot Locker and Finish Line and the athletic specialty channel."

Steven Nichols also indicated that the Original Classic is witnessing some "little nice tick-ups" in the marketplace but still isnt expected to resume growth until 2012.

"We hope well be back to growing our Lifestyle business in the second quarter of 2012 and continue growing our Performance business in the first quarter of 2012," said Nichols.