K-Swiss Inc. reported a steep loss in the third quarter on a double-digit revenue decline but KSWS shares surged after the company reported a double-digit uptick in orders for the next two quarters on the strength of its Tubes collection. Worldwide futures at Sept. 30 were up 17.5% over the next six months, comprised of a 4.5% decrease in the fourth quarter and a 30.9% increase in the 2011 first quarter.


While admitting that results have been "dismal" over the last few years, company chairman, president & CEO Steven Nichols said on a conference call with analysts that turnaround efforts are progressing.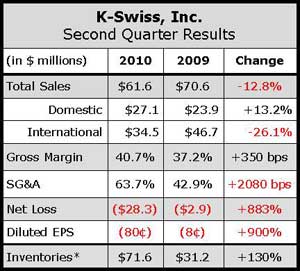 "To paraphrase Chairman Bernanke, we're starting to see an increased number of green shoots of promise that spring will arrive in 2011," said Nichols. "Our domestic future orders are up 50% and positive on a worldwide basis. To us, that is a clear sign that our three years of investing in innovative product and focused marketing brand positioning might pay off."

K-Swiss brand revenues in the quarter slid 18.2% to $48.6 million. A 42.2% decrease in sales in the Lifestyle category offset a 36.8% jump in sales of the Performance category, which includes tennis, running and training. The biggest sellers in lifestyle were the Classic, which sold 226,000 pair; the Albury II, with 46,000 pair; the Anglesea, 41,000 pair; and the Andrus, 33,000 pair. The top Performance sellers were Tubes Run 100, with 47,000 pair, and the ST329, 62,000 pair.

Unit volume was down 26.5% but the average wholesale price per pair for the K-Swiss brand increased to $27.46 in the quarter from $24.56 in the year-ago quarter, reflecting fewer closeouts. The at-once business for the quarter was 38.3% of sales compared with 37.6% of sales in the year-ago period.

In the company's other brands, Palladium sales grew to $1.6 million from $330,000 in Q3 last year. The recently-acquired Form Athletics MMA brand had $127,000 in revenues in the quarter.

By region, revenues in the U.S. increased 13.2% to $27.1 million. Domestic futures orders were ahead 50.9% — up 6.4% for Q4 and up 86.1% for Q1 2011. International revenues were down 26% to $34.5 million. International orders inched up a marginal 0.3% — down 11.8% for Q4 and up 6.7% for Q1. European sales were down 35%, with a 10.0% decrease in futures. Sales in Asia were down 11% with a 29% increase in futures. Europe accounted for 34% of sales and Asia contributed 14% of sales.

The severity of the $28.3 million loss in the period was partly due to $14.0 million in tax expense stemming from a $20.2 million valuation allowance taken against its U.S. deferred tax assets. That compares to a $1.6 million tax benefit in the year ago period. But it also reflects an increase in SG&A expenses to 63.7% of revenues from 42.9% as advertising costs jumped 148% in the quarter. Gross margins increased to 40.7% of sales from 37.2% of sales due to fewer closeouts.

For the 2010 full year, K-Swiss expects sales to decline 5% to 10%.
On the call, EVP David Nichols said the launch two months ago of a multi-media advertising campaign featuring Kenny Powers from the HBO TV show "Eastbound and Down" drew awareness and "strong results" for its Tubes collection. The online films of the campaign have been viewed over two million times online and K-Swiss has experienced almost a ten-fold increase in its Facebook fans since the campaign began.
Additional campaigns featuring Jillian Michaels, the celebrity fitness expert, for Tubes will start in January.

In running, its affiliation with triathlons, including partnership with the Ironman Racing Series and its 42 pro triathletes, is helping establish K-Swiss with the running community. The new Blade running shoes, introduced at the Ironman Pro Championship last month, in Kona, HI, sold out on-site. In tennis, its new Bigshot tennis shoe debuted at the U.S. Open.

Steven Nichols said Tubes is being embraced by stores like JC Penney and like Famous Footwear as well as Dick's SG in the Sporting goods channel. The line was largely responsible for the backlog gain. Said Nichols, "Our Internet sales are growing exponentially and again it's Tubes leading the way."

He also said Blades "is being embraced by the running community," although he doesn't expect Blades to have a meaningful impact on revenues until 2012. A $130 version was just introduced and a recovery shoe will be launched next fall.

Looking to 2011, the CEO admits the company "overspent" this year and is still deciding whether to continue to jumpstart growth or let demand grow more naturally.

"We are excited about what 2011 will look like and we just have to decide if our goal is to make a profit in 2011 or to just pour it on for 2012 being off the charts," said Nichols.