While making progress in re-launching its classic tennis shoe and establishing itself in the running/triathlon category, K-Swiss said it is still fighting an uphill battle against the struggling economy. The company lowered its guidance for 2009 after posting a first quarter net loss of $1.1 million, or 3 cents per diluted share, on a 24.8% sales decline.


The company now expects 2009 revenues to be approximately $200 million to $230 million and is forecasting a loss per share ranging from 60 cents to 90 cents per diluted share. In early March, K-Swiss reported it expected sales between $210 million to $250 million and a loss ranging between 30 cents to 60 cents a share.

At March 31, worldwide futures orders were down 41.3% to $73.7 million. Domestic futures decreased 39% to $28.3 million; international futures decreased 42.7% to $45.4 million.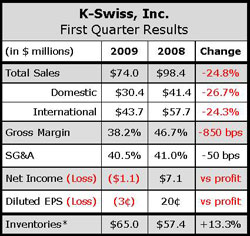 "The story for us is going to be the same throughout the balance of this year with sales, earnings, and backlog showing declines year-over-year for both domestic and international operations," said Steven Nichols, K-Swiss chairman and president, on a conference call with analysts. "Our guidance reflects that reality."

In the first quarter, domestic revenues decreased 25.4% to $30.4 million; international revenues were down 24.3% to $43.7 million. Overall unit volume was down 13.6% to 2.6 million pairs. For the K-Swiss brand, the average wholesale price per pair decreased to $23.84 in Q1 2009 versus $28.65 in Q1 2008.

By category, Sports Style, which accounted for 62% of sales, was down 40%. Classic ,the biggest seller in sports style, sold 238,000 pairs and was down 9.8% from the prior year. Other top-sellers were The Mohr, 143,000 pairs; Lozan II, 112,000; ST329, 90,000; and the Albury II, 82,000.

The Performance category, which includes tennis, running and training, was down 11% and accounted for 24% of sales. Other revenues, which included Apparel and Palladium, were up 565%. Excluding Palladium, other revenues were up 65.9%.

The Palladium brand showed a net loss of $58,000 on sales of $7.4 million in the quarter. The loss reflects expenses incurred in the U.S. to launch the brand. France was profitable. Futures at Palladium were $9.6 million as of March 31.

K-Swiss also completed the sale of Royal Elastics, its laceless fashion footwear brand, to REH, an investment group led by Royal Elastics' LA-based product design director. The sale, which included worldwide rights to the Royal Elastics brand and certain inventory, is expected to result in a gain of $1.4 million, or 4 cents a share, in Q2 2009. Terms were not disclosed.

Regarding international results, K-Swiss noted that, excluding Palladium, international sales tumbled 37% in the quarter and backlog was down 55%. K-Swiss' European sales were down 43% with a 56% decrease in backlog. Sales in the Asian region were down 32% with backlogs down 43% at quarter-end.

Gross margins eroded to 38.2% of net sales from 46.7% a year ago, due primarily to product mix and geographical mix of international sales and closeouts. SG&A was down slightly as a percent of sales, at 40.5% of sales versus 41% a year ago. K-Swiss noted that its balance sheet at March 31 remained strong with working capital of $279 million compared with $356 million a year ago.

Nichols said K-Swiss' key marketing initiatives in 2009 will focus on Classic, tennis and running. The "most important" is the reintroduction of the K-Swiss Classic, an updated version of the Classic 1966 look. The re-launch will be supported by K-Swiss' largest online advertising effort ever, scheduled to start in mid-May and run through back-to-school.

The launch of its Defier-miSOUL technology tennis shoe will be supported by print ads featuring Mardy Fish in the U.S and Asia and ones of Tommy Haas in Europe in both Tennis Magazine and tournament guides in 240 pro tennis events around the world. Other marketing includes grassroots product placement and many national junior tennis players in the U.S., an in-store miSOUL technology videos and displays, and online ads on tennis websites.

In running, Nichols said K-Swiss recently hired its first ever VP of running sales and will have a full line of performance running shoes ready for delivery in February 2010. Nichols noted that running is a "very difficult category" to enter because most runners are loyal to their favorite shoe. As a result, marketing is being focused on sponsoring triathletes and triathlons.

Nichols said the new K-Swiss One mi-SOUL technology running shoe and takedown version, the K-Swiss K-ONA, are both selling well in running specialty stores, but he doesn't expect any bottom line benefit until 2011 at the earliest.