Johnson Outdoors closed out fiscal 2010 with increased revenues and dramatically improved fourth quarter operating losses thanks to a successful cost cutting program and growing sales of marine electronics, which accounted for nearly half the company's revenues.


Fourth quarter net sales increased 15.1% to $75.1 million from $65.3 million in the year-ago period. The net loss for the fourth quarter narrowed nearly 60% to a loss of $5.8 million (62 cents per diluted share), compared to a loss of $14.2 million, or $1.55 per diluted share, in the prior-year period.

Fourth quarter gross margins improved 720 basis points to 40.3% of sales, compared to 33.1% of sales in the prior-year quarter. Operating expenses were up 3.4% for the quarter, but improved by 510 basis points to 44.7% of sales in fiscal Q4 compared to 49.8% of sales in the prior-year period.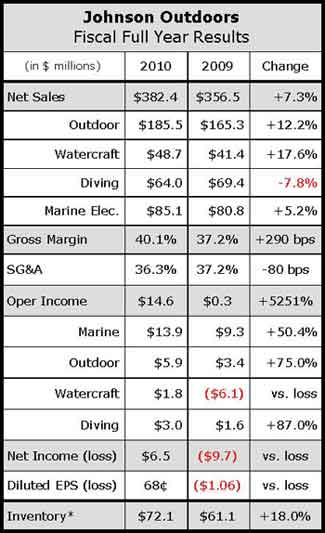 Marine division revenues jumped 28.3% in the fourth quarter to $28.3 million from $22.1 million in fiscal Q4 last year. The division operating loss was cut by a third for the period to an operating loss of $2.4 million.

Outdoor division revenues increased 20.2% to $10.6 million in the fiscal fourth quarter, compared to $8.8 million in the year-ago period. Division operating profits jumped six-fold to $726,000 versus $101,000 in the fiscal 2009 quarter.

Watercraft division sales increased 15.4% to $12.9 million in fiscal Q4 from $11.2 million in fiscal Q4 the prior year. JOUT posted a $37,000 operating loss in the division in the quarter, compared to a loss of $5.9 million in the prior-year quarter.

Diving division revenues inched up 0.5% to $23.4 million in the fiscal fourth quarter. Operating profit jumped ten-fold for the division to just over $1.0 million.

For the full year, total net sales rose 7.3% to $382.4 million as fishermen and campers loaded up on the company's fish finders, trolling motors, tents and camping accessories. Minn Kota's i-Pilot, a new accessory that uses wireless GPS technology for automatic boat steering and positioning, was a "huge hit" and sales of sleeping bags, camp furniture, and portable energy sources exceeded expectations, said Chairwoman and CEO Helen Johnson-Leipold. On a constant currency basis, net sales grew 6%.

JOUT swung to a net income of $6.5 million, or 68 cents per shar, for the fiscal year, versus a loss of $9.7 million, or a loss of $1.06 per share in the prior year, thanks in large part to better performance at the Watercraft segment, which manages the Ocean Kayak, Old Time, Necky Kayak, Carlisle and Extrasport paddlesports brands. Although JOUT's smallest, the segment swung from a $6.1 million loss in fiscal 2009 to a $1.8 million profit in fiscal 2010 thanks to a major restructuring over the past 18 months.

Johnson-Leipold said that while "the outdoor recreational industry had been severely jolted by the economic recession," Johnson Outdoors has emerged much more competitive and profitable.

Inventory levels are now 40% below their level of two years ago and the company has been able to carry over 60% of $20 million in cost savings from fiscal 2009. Managers cut another $10.7 million in operating costs this year. Roughly half of those came from consolidating boat manufacturing at JOUT's facility in Old Town, ME.

The company drove down its cost of sales by 290 basis points to 59.9% for the year.

Double-digit growth in sales of the Minn Kota (electric trolling motors), Humminbird (fish finders) and Eureka! (tents) brands as well as growth in the Diving segment helped offset a sales decline in the Watercraft segment.

On the retail front, Johnson-Leipold said the company is now tracking inventory levels at its top dealers to avoid out-of-stock and overstock situations. JOUT will expand the program in 2011.

In terms of product innovation, the company's lower-priced Subpro Diving brand – introduced this year – has been well received by dealers who have been hit hard by the recession. The marine electronics segment is also poised to enter the 25- to 60–foot boat market with a new line of Geonav multifunction displays. JOUT thinks there will be demand in both the OEM and aftermarket, which could be a $500 million market.