Thanks to heavy cost cutting, Johnson Outdoors was able to turn double-digit sales declines and lower gross margins into a huge increase in net income. Management stated that the "outdoor recreational industry is particularly volatile in uncertain economic times." As a result, last December, Johnson Outdoors started implementing $20 million in cost-saving projects, a 26% reduction in capital expenditures, and a 12% reduction in peak working capital.


For the fiscal second quarter, cost savings efforts were progressing on track and in line with expectations. For the quarter, operating expense decreased 21%, working capital was 30% below prior year entering its peak period, with net inventory levels down $40 million versus last year's second quarter. Capital spending was down 30% year-over-year.
Part of the restructuring changes to JOUT's Watercraft marketing and sales teams includes a consolidation of sales responsibilities that expands the Watercraft sales group to include a team of regional sales managers who will now be responsible for all Watercraft and Marine Electronics brands.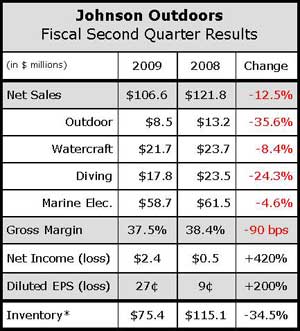 Marine Electronics revenues were 4.6% below last year, primarily due to continued weakness in domestic and international boat markets. The cost cuts seem to be positively impacting the Marine Electronics division solely. Operating margins increased 320 basis points to 12.1% of sales compares to 8.9% of sales.

Watercraft sales were 8.7% below the prior year as a result of unfavorable currency translation of 4.3%, scaling back of distribution to non-core channels and weak international markets. Operating margins were in the red for the second fiscal quarter of 2008 and 2009 in the Watercraft division and slipped 10 basis points to -1.1%. 

Diving revenues were down 24.1% due to slowing economies in key markets and the impact of unfavorable currency translation, which comprised 8.3% of the revenue decline. Operating margins fell 80 basis points to 1.7% of sales.

Outdoor Equipment sales fell 35.6% compared to last year, due primarily to pacing of military tent orders and slower-than-normal commercial tent sales. Operating margins declined 100 basis points to 4.7% of sales.

Gross margins saw some pressure from the current economic environment but remained healthy with only a small decline. Total operating expenses were reduced by nearly $10 million during the quarter, boosting operating profits by over $2 million to $5.8 million. Other factors positively impacting operating profits include aggressive cost savings initiatives, which more than offset the impact of lower sales and unfavorable product mix on margins; a 34.5% reduction in net inventory levels; and bonus and zero profit sharing accruals compared to $1.8 million in the prior year. In addition, finished product SKUs are down 30% year-on-year.

Overall operating margins jumped 240 basis points to 5.4% of sales compared to 3.0% last year thanks to the considerable improvements in the Marine Electronics division.  On the bottom line, the cost-cutting measures yielded a five-fold increase in net income. Looking ahead, management said that they will continue to be vigilant on cost saving.  They said roughly half of the current cost cuts will be sustainable in the years ahead.