"Carbon is an engineer's dream," Groth told SGB. "You're able to manipulate it to get the right feel, the right flex. It makes the ultimate customization possible."
Writer: Carly Terwilliger
Southwest Composite Works (SWC) founder and owner John Groth is taking his carbon fiber engineering and manufacturing expertise into new territory – handmade bicycles.
HIA Velo – stands for Handmade in America – has signed on as one of SWC's first outdoor industry clients. SWC will make the molds used to craft HIA's American-made carbon fiber bicycles, which are produced under the Allied Cycle Works brand name. "Carbon is an engineer's dream," Groth told SGB in an interview. "You're able to manipulate it to get the right feel, the right flex. It makes the ultimate customization possible."
For a custom-focused business like HIA, this turned out to be a successful pitch. "[W]e take great pride in the fact that we source all raw materials and tooling from the best domestic partners," HIA Velo Founder and Managing Director Tony Karklins commented in a press release. Said Groth about the collaboration, "HIA's mantra is about building a bike with soul. Does it matter that bikes are built in sustainable and environmentally responsible way? To me, it does. Quality is directly related to experience."
Groth is also in the process of becoming a brand ambassador for HIA, although he jokingly admitted he hasn't gotten his own custom bike yet. "We've been so busy getting them the equipment and tools," he said. "They give us the design and we build it for them and give them everything they need, the fit, the finish. They're pre-taking orders, and they've told us that so far their expectations have been exceeded."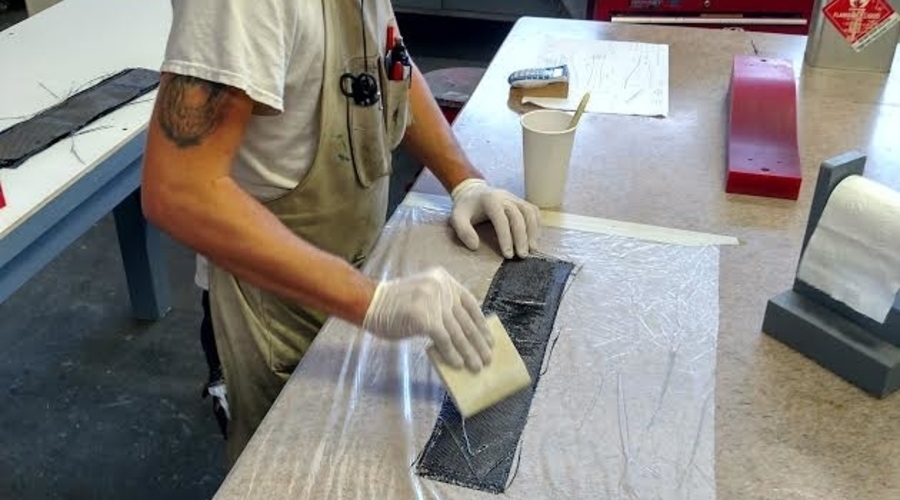 One of the benefits of working with a domestic carbon company is that it keeps the design and manufacturing processes nimble, said Groth. HIA is "doing very well with their time to market. It's under one year. In the bike world, that's incredible." Among other perks is "lower minimum orders. They don't have to buy a tanker load from us."
Based in Albuquerque, NM, SWC also works with Sandia National Laboratories, manufacturing composite chest panels, thigh covers and foot plates used on robots developed by Sandia for the DARPA Robotics Challenge to demonstrate "efficient biped walking robot" technology being developed for unmanned emergency response applications. In this case, the process of landing the contract was helped along not just by SWC being an American manufacturer but also by being a neighbor of the lab. "The local aspect and the ability to interact personally" are of considerable value in the deal-making process, Groth commented.
Although the outdoor industry is a new area for SWC, in his personal life, Groth is an avid member of the tribe. "I've climbed El Cap, I've competed in marathons and triathlons. I've always had a bond with that world, and I saw the movement of some of those companies on-shoring," he said. "I saw an opportunity."
In addition to the freshly minted cycling deal, Groth is also eyeing expansion into the hunting and fishing space. "The hook and bullet industry is very invested in American brands and American products," he observed. "We always joke here in the office that I should make a bumper sticker that says, 'Start a Trade War – Buy American.'"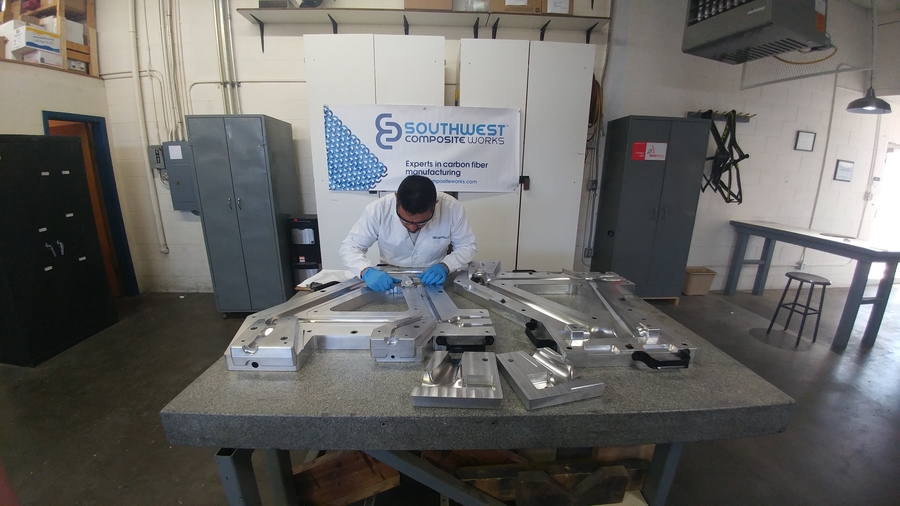 Photos courtesy Southwest Composite Works