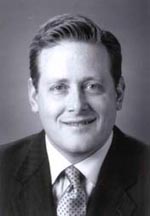 Jarden Corporation appointed Gregory S. Shearson as President and Chief Executive Officer of Jarden Outdoor Solutions. Jarden's Outdoor Solutions segment has a broad portfolio of outdoor and active lifestyle products. Mr. Shearson has more than 20 years of experience in the consumer package goods industry. He has held senior management positions at PepsiCo Corporation since 2001. Most recently, Mr. Shearson served as President of Tropicana Beverages North America where he delivered significant revenue and profit improvement.
Additionally, he led the successful acquisition and integration of Naked Juice Company as well as the relocation of Tropicana's corporate headquarters. Previously, Mr. Shearson was President of Pepsi-QTG Canada (Quaker, Tropicana, Gatorade), where he led the merger of all of the Pepsi Beverages and Foods businesses in Canada.
Martin E. Franklin, Chairman and Chief Executive Officer of Jarden Corporation, commented, "We are thrilled to have someone of Greg's caliber joining us to lead our Outdoor Solutions business. His tremendous knowledge of the consumer products industry and experience leading multi-billion dollar businesses both in and outside of the U.S. are essential for the segment following the acquisitions of K2 and Pure Fishing earlier in the year. Greg has previously been instrumental in transforming businesses, long-term strategic planning, ensuring a steady and healthy pipeline of innovation for the future, and leading significant portfolio merger and acquisition activities. Furthermore, I believe he is an excellent fit with the Jarden culture and his record speaks to his capability of building great brands, assembling skilled teams and identifying new growth opportunities."
Mr. Shearson stated, "Joining Jarden presents a unique opportunity for me to be part of a rapidly growing, multi-billion dollar company with a track record of success. Jarden's entrepreneurial culture and leading brands serving the outdoor markets were particularly compelling for me. I look forward to building on Jarden Outdoor Solutions' focus on providing customers with product innovation, brand support and excellence in operating performance to create an even stronger business going forward."
Prior to the PepsiCo-Quaker merger, Mr. Shearson was with The Quaker Oat Company from 1999 to 2001, and served in the positions of President and General Manager of Altus Food Company and Vice President of Quaker New Ventures. Earlier in his career, he was Vice President of Marketing and Research and Development at Sara Lee Bakery and spent 10 years in Marketing at Procter & Gamble in Cincinnati and in their Eastern European start-up organization. Mr. Shearson is a graduate of the University of Pennsylvania.