The film "Ready When You Are" compiles videos captured entirely by Black Diamond employees and athletes in the field.
Black Diamond's employees and athletes spend a lot of time living the question, "Where did you get out this weekend?"
For its short film "Ready When You Are," the company compiled videos captured entirely by its employees and athletes in the field. The seven-and-a-half minute film brings this ethos to life with sequences showing powder turns, sick tricks and sloper fails. That's the weekend, but the idea is that the preceding days are spent not pushing paper around but instead preparing for what's waiting at the end of the work week trail.
Every Monday morning, after waking up in a converted camping van in BD's parking lot, Design Engineer Brent Barghahn looks forward to hearing "Where did you get out this weekend?" from his boss. The 23-year-old climber walks in bright and early prepared with an answer – Zion, Red Rocks, Yosemite.
On Monday, explains a post by Black Diamond employees on the company's site, "There's coffee-fueled tails of intricate crux sequences happening in the marketing department. Floaty turns of perfect snow are all the rage over in sales, and the QC Lab guys are discussing which buttresses were less crowded at the Creek.
"By Wednesday, however, the conversations have shifted, and are focused on what's to come. The usual bookmarked web pages are open again, and weather forecasts mixed with beta are the de-facto topic of choice. Brent will poach the internet that night to scour Mountain Project while camping in BD's East Lot. By Thursday, most, if not all of us, will have our own weekend plans in motion.
"When Friday morning finally rolls around, Brent and the rest of us will be cranking at our desks. Some of us will be making gear, while others are marketing or selling it. You can even venture over to the QC Lab and find the crew trying to break that very same gear."
It's Tuesday today – a little further from early-season skiing and late-season mountain biking than we all would like – but it's nice to be reminded what's waiting when the laptops snap shut and plans turn into reality.
The question is, "Where do you want to go?"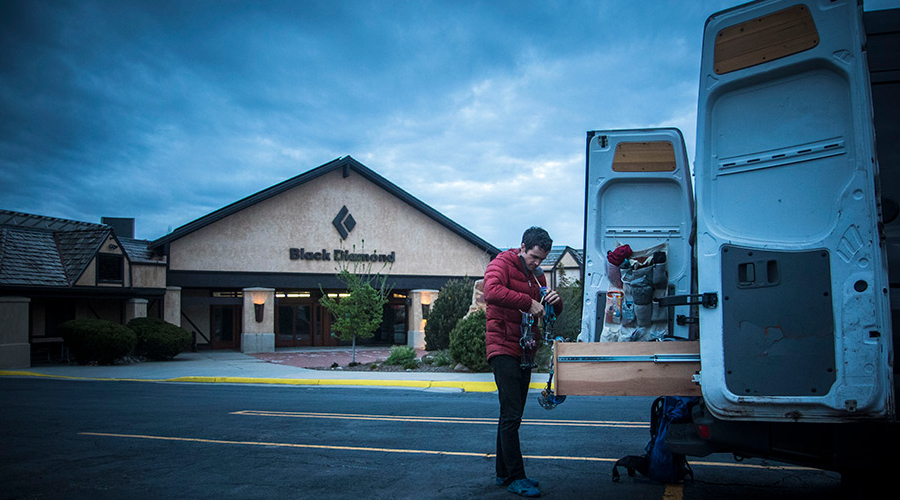 Photos and video courtesy Black Diamond