Icebreaker will launch a co-branded apparel line at Cabela's this fall as part of its new five-year plan to double global sales to $400 million by 2019, company Founder Jeremy Moon told The B.O.S.S. Report last week.
In a telephone interview from Icebreaker's Auckland, New Zealand headquarters, Moon said expanding into the hunting and fishing and sporting goods channel are among the planks in a global strategy he has been working on with newly minted CEO Rob Fyfe.

Icebreaker announced May 28 that Moon and Fyfe were switching titles with Fyfe taking the CEO role and Moon taking the position of executive chairman as well as creative director. The arrangement plays to Moon's strength as an entrepreneur, marketer and designer as more brands jump into the market for merino wool performance apparel that he helped legitimize.

"This allows me to take on the creative role, to sharpen our focus and bring some new product to market," said Moon. "I feel like we've let ourselves get a little bit broad. We have lost our sharp points a little bit as we've gone into new categories."

Global sales could surpass $200 million in 2014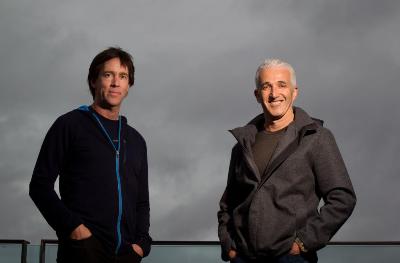 Moon, 44, said the two men have spent the last nine months shaping an omnichannel strategy that will help propel Icebreaker to the next level. The company's sales have tripled in the last six years and are track to exceed $200 million in 2014, with 40 percent coming from Europe and 40 percent coming from North America, Moon said. He sees that growth coming from three areas: greater penetration with existing dealers; selling new product into the sporting goods and hunting and fishing channels; and expanding Icebreaker's direct-to-consumer (DTC) sales.
With distribution in 44 countries and 4,000 doors – including 1,100 in the United States and Canada – Icebreaker is already broadly based geographically.

Icebreaker's new dynamic duo includes Founder, Executive Chairman and Creative Director Jeremy Moon (left) and CEO Rob Fyfe (right).
"We've really chosen our key partners and feel like we have a very good network," Moon said. "The key is to do more business with them."
On the DTC front, Moon foresees adding two to three stores in key locations every year. The company now operates 19 stores, including 12 in North America, as well as icebreaker.com. It will add two more bricks-and-mortar stores in North America this year.

Why Fyfe?
Moon met Fyfe in 2010 after reading that he was leading a group of employees from Air New Zealand on an expedition to Mt. Everest. Fyfe, now 53, had become something of a global business luminary by then for his success leading a turnaround at the airline. Moon offered to supply the expedition with Icebreaker base layers and Fyfe returned from the expedition a devoted fan and the two executives struck up a friendship.

"We started talking about what we both wanted out of life," Moon recalled. "Rob wanted an entrepreneurial charge that connected New Zealand to the rest of the world and I wanted to be able to trust the company to a professional CEO so I could focus on product and branding."

Moon also needed a CEO with global experience who was open to taking risks and would not shackle Icebreaker in corporate bureaucracy.

Fyfe joined Icebreakers board in 2012, the same year he resigned as CEO of Air New Zealand, where he earned global acclaim for taking the airline from a 2001 taxpayer bailout to one of the top rated airlines in the world. Prior to that, Fyfe had worked in banking and digital media.

"You think he has this dry corporate background, but his approach at Air New Zealand was to put the customer at the heart of the business," said Moon. "Flying Air New Zealand is not like flying any other airline. He basically rebranded that whole airline around a personality and that's why they won airline of the year globally."
The next level
Under Moon, Icebreaker's personality has been one of irreverence and disruption. During the Outdoor Retailer Summer Market in 2008, for instance, it sent employees into the streets with placards, buttons and bumper stickers challenging people to "Feel fantastic without plastic" in a direct jab against synthetic base layers.
Icebreaker will continue to direct global marketing, product design, retail, digital marketing and e-commerce operations from its office in Portland, OR, while its Auckland staff will manage overall brand messaging, finance and supply chain.
The company will continue to source its wool exclusively from New Zealand, where 187 family-owned farms supply it with 1,600 tons of merino wool a year.

Keeping that New Zealand story alive will be more important than ever as more brands jump into the merino wool category that Moon helped legitimize.

"There are about 150 outdoor and sport brands now that use merino somehow," Moon said. "When they use premium fiber that's great, but when it's blended with lots of nylons, etc. that's different. I'm excited when I see new premium merino products hit market and I get worried when I see it blended."

Moon also sees Icebreaker's sustainability story, including a proprietary "Baacode" customers can use to trace individual garments back to a specific farm in New Zealand, becoming more important as competition increases.

"I feel there has been a renaissance in last two years," he said, echoing Columbia Sportswear Co. CEO Tim Boyle's recent remarks about why his company acquired the activewear brand Prana. "Customers are becoming more conscious. The trends are toward wellness and health as opposed to just technical performance and fitness. The lines are blurring."