For the past five years, Denver-based MuscleSound has given Colorado Rockies Head Athletic Trainer Keith Dugger the inside scoop on his players' performance.
Writer: Carly Terwilliger
How did you feel before your run or your workout this morning? Low energy? Hungry? Hamstrings a little tight? All those things could be telling you something, both about how successful your fitness routine is going to be on this particular day and your condition in general.
While most of us wing it on gauging performance readiness – maybe with the assistance of a wearable device – many professional athletes quantify their fitness level with the help of companies like MuscleSound. The Denver-based performance and health technology company developed a system that optimizes performance and muscle readiness using ultrasound.
Measurements are taken from several locations on the body, then MuscleSound's software gives you a body comp and/or muscle fuel score, depending on the report. Muscle Energy Status is a snapshot of your overall status, while fuel level is a 0-100 scale that shows how much fuel you have in your tank. MuscleSound also compares results to the other 160,000 scans in its system because without the comparison, you're left with data that doesn't answer the question, "Okay, but is that good?"
MuscleSound recently celebrated five years of partnership with the Colorado Rockies. In addition to several other MLB teams, MuscleSound technology is used by NFL, NBA, USA Women's Olympic Track Cycling Team, Pac-12 and SEC institutions. "During training camp, everyone's worried about making weight," said MuscleSound President and CEO Andy Jackson, but focusing just on that can wreak havoc with the body's ability to train and recover effectively. "On one of our NFL teams, we had a guy turn up to training camp who was restricting his diet to lose weight. So his number was around 25 when he should have been closer to 70."
Once trainers and players are made aware of conditioning shortfalls through a MuscleSound evaluation, "improvement could be seen right away," said Jackson. "If it's poor form during a strength day, we could see changes the next day." Same goes for nutrition – a quick correction based on accurate data can produce a quick turnaround for the athlete. For example, if the Rockies played the night before, the trainers, who administer MuscleSound assessments for the team, "will be checking to see if they're fueled up for the game tonight."
And with the introduction of a portable version of the technology, which was added in 2016, the platform has become easier to integrate into an overall training program. "The players used to have to go to the medical room, and they hate going to the medical room," said Jackson. "So this was a nice addition."
In addition to the tutorial from Jackson and his team, and a test drive of the scan, which among other things showed that my left quad was depleted from snowboarding a few days earlier, SGB spoke with Rockies Head Athletic Trainer Keith Dugger to find out how the team benefits from MuscleSound's innovative technology.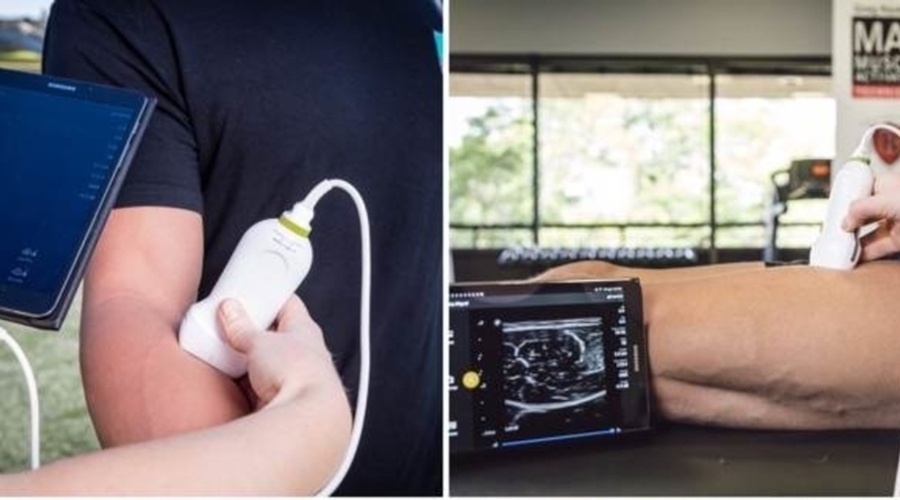 SGB: How did the partnership between the Rockies and MuscleSound begin?
KD: In 2011 and 2012, The Rockies' medical department was looking into altitude studies with a group of people from CU. Dr. Ingio San Milan was one of the doctors that we met, and we started talking about various training ideas and methods. Dr. Milan stated that he and Dr. Hill had just come up with a new software that can possibly be used to measure glycogen via diagnostic ultrasound vs. muscle biopsy. Through our conversation, I became more intrigued of the potential usage on our baseball team and how we could possibly implement a non-invasive test. During further investigations with the group we determined that we could possibly get some baselines on our players and determine how we could us the data to educate our players on diet, sleep and training methods.
SGB: What advancements have your players benefited from since the introduction of the program five years ago?
KD: Our players have learned that it is important to utilize food during competition, along with a balanced diet throughout the entire season. We understand that meal skipping puts you in the red, along with certain fad diets and with overtraining during the season. By ensuring the players are keeping their scores around their baseline, we know they are less likely to get some sort of soft tissue injury. We have learned if we can't adjust some the scores through diet and nutritional needs, then we need to look into workout times, meal plans and sleeping habits as well.
SGB: Was there any resistance to MuscleSound from players when we started? How has this changed?
KD: Yes, there was a little resistance at first. Anytime you bring something new to the table, players are afraid you will use the information against them. We had to educate the players first of all on exactly why would recommend the testing and also on how we are using the data. Once players understand why and what we are testing, they see this could be valuable information that they can use to help them throughout the season.
SGB: What is the most important benefit MuscleSound brings to the table?
KD: MuscleSound is a visual, non-invasive tool that can help the players with injury, rehab, diet and training times.
SGB: How does MuscleSound Energy Status and Muscle Fuel rating fit in our overall picture with our players?
KD: The graphs can give players, performance coaches, and athletic trainers simple visual tools that we can use to make adjustments to nutritional needs, rehab game plans, and practice adjustments based on individual scores. In my opinion, MuscleSound is the perfect modality that can assist a player's needs if you educate the player on what the actual scores mean.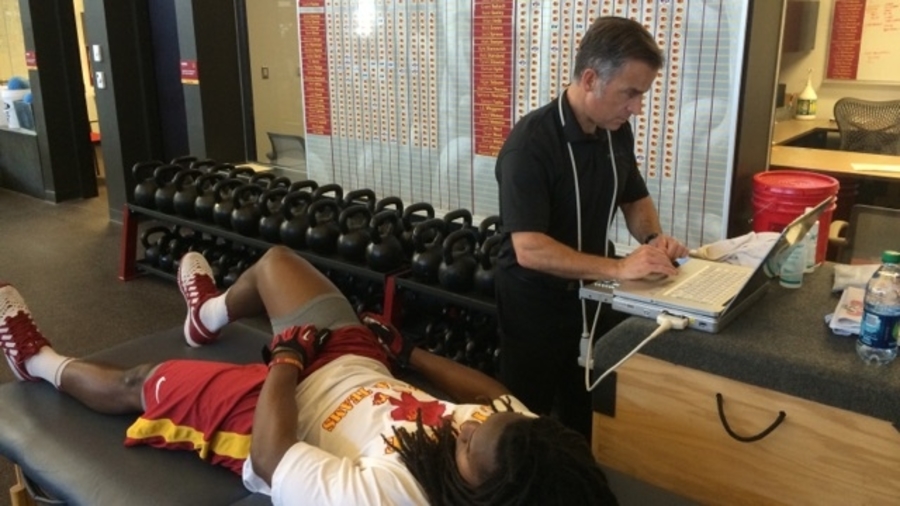 Photos courtesy MuscleSound