Hoka's new video series "Women Who Fly," released today, portrays three women with unique life stories. Each video explains their life struggles that involve running, assault, addiction and religion, and how they conquered their issues.
Writer: Travis Poulin
According to Hoka, the colorful character studies are designed to inspire other runners while defining the Hoka brand; focusing on running not only for fitness, but also helping you become the person you want to be.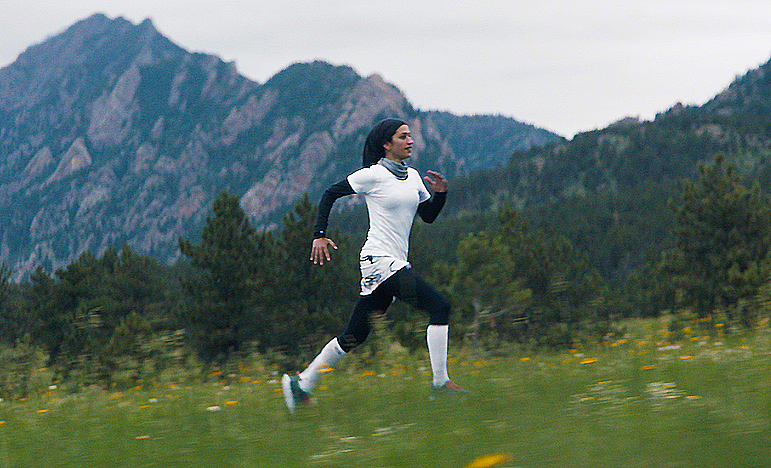 Shirin Gerami, (pictured right, click to view), is the first female Iranian triathlete. She currently lives in London, but trains in Boulder, CO. Last year, Shirin competed at the Ironman World Championships in Kona, HI. Her story follows her through religious restrictions and the struggle to be allowed to compete. She struggled to pursue her triathlon career while adhering to Iran's dress regulations for women. Practicing her religion, Gerami ensured her hijab would not hinder her excelling during the races.
"If not all, most barriers are within ourselves that need to be broken. Barriers of how we think and how much we dare to dream and how much we dare to chase those dreams and how much we dare to not give up. Our fears prohibit us from discovering so much about ourselves." – Shirin Gerami
---
Catra Corbett, (pictured below, click to view), is an ultrarunner living in Fremont, CA. She has raced over 250 ultra marathons and is a prominent member of the ultra community. She overcame drug addiction by becoming an athlete, and believes running saved her life.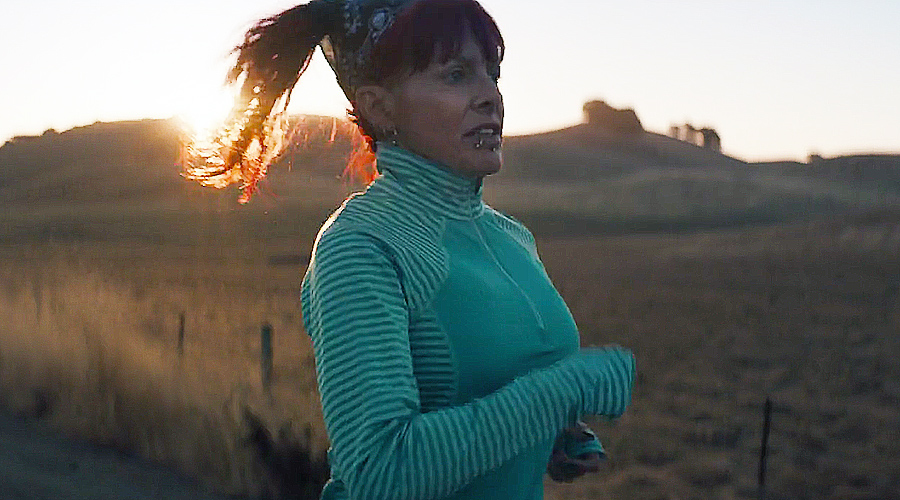 "Sitting in a jail cell made me realize this is my bottom, and I need to stop. And, I had to change my life." – Catra Corbett
---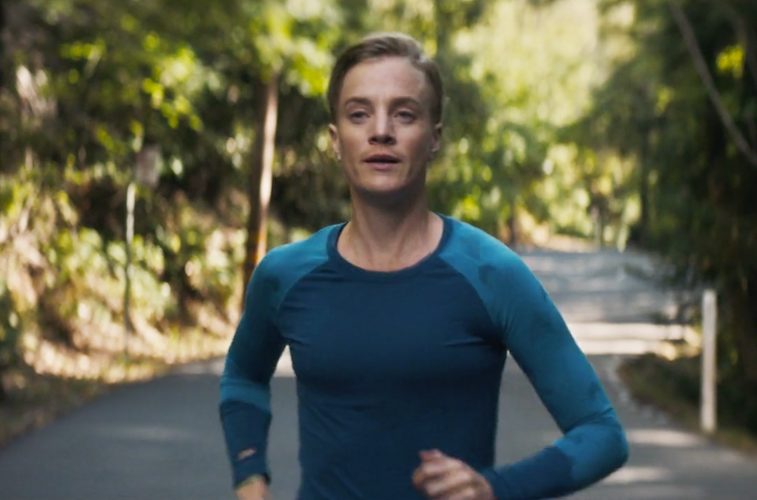 Devon Yanko, (pictured right, click to view),  is an ultrarunner and lives in San Anselmo, CA. She has overcome sexual abuse, which she did not let define her. Instead she made running her outlet during the rough times in her life. She used running to hide from everyone in the world. The ultra-runner was abused by her high school basketball coach and wanted to run away from the world. Running became a form of therapy and something that Yanko uses figuratively and literally. Yanko also won the Leadville 100 in Leadville, CO last weekend for the women's division.
"I had to fight really hard to be who I am today, and I faced it. And, I feel like that's how I want to face the world is, light and dark are part of our lives, right? And, you have to hold them with the same levity." – Devon Yanko
"'Women Who Fly'  was born of our belief that what makes us run is what makes us human," said Wendy Yang, president of the performance lifestyle brands at Deckers. "Shirin, Catra and Devon inspire us with their supreme dedication and strong will. With these films, we share their stories and how running has played an important role in their development as humans. As an athlete, I can relate. At Hoka, we believe in the power of running and every runner."
---
Joris Debeij, director of the "Women Who Fly" series, is an Emmy Award-winning documentary filmmaker who has shot commercials for Apple and JetBlue, and has had work highlighted at SXSW, Sundance Film Festival and the New York Times.
Log on to hokaoneone.com/women-who-fly.html to hear more.
Photos and videos courtesy Hoka One One