Hibbett Sports got a boost from strong early sell-through of footwear and accessories and benefited from slightly higher overall average selling prices to post a fairly solid first quarter, but trends slowed at the end of the period as the small market retailer went up against strong prior year comps driven by stimulus checks. While it faces tough comparisons in the second quarter against the arrival of stimulus checks and tax-free holidays a year ago, the retailer reaffirmed its outlook for the current financial year.


First quarter sales increased 8.1% to $157.7 million, reflecting both new stores and a 2.4% comp store sales gain. Net income increased 16.4% to $10.9 million, or 38 cents a share.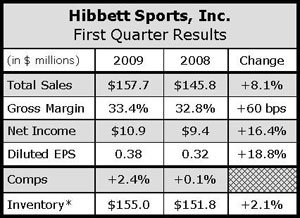 Comps grew 9.5% in February, rose 1.2% in March and then declined 5.4% in April. The comp deceleration over the period was attributed to the fact that tax refunds appear to be coming "a little bit later this year," landing in February instead of January, according to Jeff Rosenthal, president and COO. He also said the early months were helped by "a little bit of pent-up demand from holiday." Finally, he noted that comparisons were toughest in April, where comps had risen 9.8% in the year-ago month.

The number of items per transaction in the quarter were up 1.9% and average selling prices were "up slightly."

Among categories, activewear was up slightly on a comp basis. Both women's and youth were up mid-single-digits. Nike and Under Armour continue to perform well. Urban apparel, as planned, was off double-digits. College and pro license apparel was down mid-single-digits although the area was helped by North Carolina winning the NCAA Championship and good sales of New Era 59fifty Major League Baseball headwear. Rosenthal said overall, apparel inventory "is down and much cleaner than last year."

Footwear was up mid-single-digits. Key performers were Nike Shox, Air Force 1 and Jordan; Under Armour training and running; ASICS technical running, Converse and DC shoes. Men's was up low-single-digits; women's off mid-single-digits, and kids up double-digits. Cleats, continuing to perform well, were up mid-single-digits, paced by kids baseball and women's softball.

Accessories (socks, shoe care and sunglasses) were up high double-digits, led by Oakley, Nike and Under Armour. Rosenthal noted that Hibbett's new inventory replenishment system is particularly helping the stores stay in stock more often in the category.

Equipment was down mid-single-digits. However, volleyball, football, soccer and basketball were up low-single-digits. Fitness was off low-single-digits and baseball was off mid-single-digits.

Rosenthal said they were doing better in the Midwest, but "down in Texas, Oklahoma, Kansas, Nebraska, a little bit in Kentucky." He said they were a little bit weaker on the East Coast, including Florida, North Carolina and South Carolina and Arizona.

In the question amd answer session, Rosenthal said he believed the overall promotional climate is "very comparable" to last year, suggesting that the inventory is a lot cleaner in the overall marketplace. He also noted that the athletic business has been "pretty good." He said they see "a lot of small, little niche things coming up, more regional type buys, which we feel pretty good about." Regarding footwear, Rosenthal said the company is seeing a lot of demand on the technical running side.

Rosenthal said that overall consumer spending patterns in the marketplace have become choppier as purchases and based more on need. He said he expected the business to slow for a while, but expected back-to-school to be very good. He then expects it to slow again until Christmas.

Gross margin improved due to favorable leveraging of warehouse and occupancy costs and a 16 basis point reduction in inbound freight. Rent costs were down 3%, somewhat offsetting that was higher charges in taxes and utilities.

Inventories at quarter-end increased 2.5% over the previous year but were down approximately 5% on a store by store basis.
Looking to the second quarter, Rosenthal said the period has started off slow, down in the high-single-digits versus a mid-single-digit gain last year. The second quarter is also expected to be negatively impacted by the lack of stimulus checks this year.

The company added that there will be a significant transition of sales tax holidays into third quarter this year from second quarter last year. This year, over 400 of the stores will have their sales tax holiday in the third quarter, as compared to less than 100 in the third quarter last year. As a result, Hibbett expects higher sales and earnings growth in the third quarter compared to the prior year.

The company's guidance for the full year remained unchanged. Earnings are expected in the range of $1.03 to $1.17 per diluted share, with comparable store sales up in the low-single-digits. They expect to open 65 to 70 stores this year.