Hibbett, Inc. reported weaker-than-expected fiscal first-quarter earnings and cut its full-year guidance to reflect a more cautious consumer outlook. Profits in the first quarter ended April 29 were down 8.7 percent while same-store sales increased 4.1 percent. 
Sales of $455.5 million were below Wall Street's consensus estimate of $460.4 million. Net income of $2.74 missed Wall Street's consensus estimate of $3.04. For the year, Hibbett reduced its same-store sales guidance from up low-single digit to down low-single digit. The company's EPS guidance was lowered to $7.00 to $7.75 from $9.50 to $10.00.
Mike Longo, president and chief executive officer, stated, "Hibbett posted solid sales results in a challenging environment, delivering a 4.1 percent comparable sales increase and a total sales increase of 7.4 percent versus last year. We maintain very good relationships with our valued brand partners that enable us to maintain our new store growth plan and provide the product assortment to meet consumers' narrowed demand. We're investing in our already best-in-class consumer experience while also taking costs out of the business, producing leverage on SG&A of 140 basis points versus last year. We believe our product array and outstanding customer service is a competitive advantage, resulting in market share gains."
Longo continued, "Our consumers are facing a number of headwinds that range from inflation to concerns over outright job loss. Of note, the total amount of the average tax refund was unfavorable to last year by approximately 10 percent. We believe this disproportionately impacted our consumers and impacted our sales in the important first quarter of the year. Additionally, the athletic-inspired segment of our industry is carrying surplus inventory and therefore experienced an elevated level of promotional activity. As a result of the challenging retail environment, consumers are focused on a narrower range of products. The combination of these factors is a major contributor to our revised guidance for the remainder of this fiscal year. Notwithstanding our more cautious near-term consumer outlook, we believe Hibbett remains well positioned for the long-term to continue to grow and increase market share."
First Quarter Results
Net sales for the 13 weeks ended April 29, 2023, increased 7.4 percent to $455.5 million compared with $424.1 million for the 13 weeks ended April 30, 2022. Comparable sales increased 4.1 percent versus the prior year. Brick-and-mortar comparable sales were up 4.7 percent while e-commerce sales increased 0.6 percent on a year-over-year basis. E-commerce represented 13.7 percent of total net sales for the 13 weeks ended April 29, 2023, compared to 14.6 percent in the 13 weeks ended April 30, 2022.
Gross margin was 33.7 percent of net sales for the 13 weeks ended April 29, 2023, compared with 37.0 percent of net sales for the 13 weeks ended April 30, 2022. The approximate 330 basis point decline was driven primarily by lower average product margin which was about 375 basis points lower than the prior year due to higher promotional activity across both footwear and apparel. Store occupancy was relatively flat as a percentage of sales year-over-year while both freight and logistics operations were favorable as a percentage of net sales.
Store operating, selling and administrative (SG&A) expenses were 21.1 percent of net sales for the 13 weeks ended April 29, 2023, compared with 22.5 percent of net sales for the 13 weeks ended April 30, 2022. The decrease of 140 basis points is primarily the result of expense reduction initiatives, lower advertising spend and reduced incentive compensation expense partially offset by wage inflation.
Net income for the 13 weeks ended April 29, 2023, was $35.9 million, or $2.74 per diluted share, compared with net income of $39.3 million, or $2.89 per diluted share, for the 13 weeks ended April 30, 2022, representing a decline of 8.7 percent.
For the 13 weeks ended April 29, 2023, Hibbett opened 10 net new stores, bringing the store base to 1,143 in 36 states.
As of April 29, 2023, Hibbett had $26.9 million of available cash and cash equivalents on its unaudited condensed consolidated balance sheet and $103.6 million of debt outstanding. Inventory as of April 29, 2023, was $438.0 million, a 39.1 percent increase compared to the prior year first quarter and up 4.1 percent from the beginning of the year.
During the 13 weeks ended April 29, 2023, Hibbett repurchased 159,592 shares of common stock under its Stock Repurchase Program (the "Repurchase Program") for a total expenditure of $10.2 million. Hibbett also paid a quarterly dividend equal to $0.25 per outstanding common share that resulted in a cash outlay of $3.2 million.
Fiscal 2024 Outlook
Hibbet said, "The current retail business climate is challenging as consumers have been dealing with persistent inflation and higher interest rates. Consumer confidence has weakened, which we believe has impacted purchasing behavior, especially for discretionary products and services. We anticipate the risks noted below will impact us through the remainder of the 53-week fiscal year ending February 3, 2024 ("Fiscal 2024") and expect these headwinds will be more impactful on our second fiscal quarter than in the back half of the year. Therefore, we are updating the guidance for Fiscal 2024 that we presented on March 3, 2023, in conjunction with the release of our results for the fiscal fourth quarter and full year ended January 28, 2023.
"Risks to be considered for the remainder of Fiscal 2024 include inflation, a high-interest rate environment, reduced consumer confidence, the ongoing promotional environment, potential reduction or deferral of discretionary purchases, a tight labor market, inventory quantities above ideal levels and geopolitical conflicts. These factors may contribute to the complexity and volatility in forecasting Fiscal 2024 results."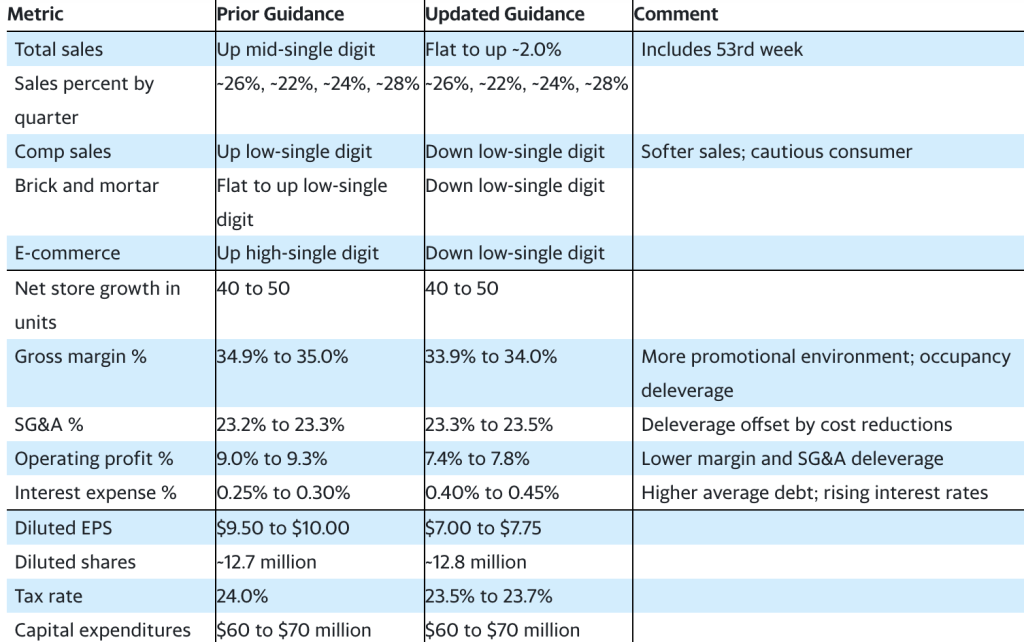 Photo/Chart courtesy Hibbett