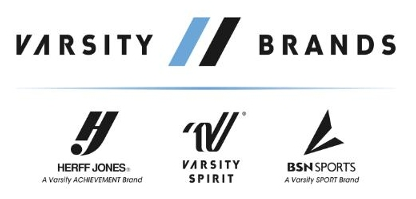 Herff Jones, the parent of BSN Sports, announced a comprehensive rebranding effort that reflects the company's accelerated growth, enhanced collaboration and improved ability to serve customers.
This action follows the May 2013 combination of three businesses – Herff Jones, Varsity, and BSN Sports – into the largest "K-through-College" sales force with more than 1,000 sales professionals dedicated to providing products and services to the school and institutional markets.
Effective today, the combined company will be referred to as Varsity Brands. As part of this rebranding effort:
The legacy Herff Jones business will continue to be identified as "Herff Jones," and will include the tagline, "A Varsity ACHIEVEMENT Brand;"
BSN SPORTS will be identified as "BSN SPORTS," with the tagline, "A Varsity SPORT Brand;" and,
Varsity will become "Varsity Spirit" to differentiate it from Varsity Brands, the new enterprise brand.
"Our three complementary businesses in the educational and institutional markets share a common target customer, today's youth, and a desire to inspire, champion and foster greater self-confidence and camaraderie for students engaged in sport, spirit and achievement," said Jeff Webb, Chief Executive Officer of Varsity Brands. "In light of this, our businesses requires – and our customers deserve – a more integrated and cohesive partner. Moving forward as 'Varsity Brands' will allow us to collaborate with educators, coaches, and students to build school pride, student engagement, and community spirit, in a more integrated and game-changing manner."
As an initial step and complement to the rebranding effort, Varsity Brands has commissioned a study on the effect that school spirit and engagement has on student achievement. Building on this effort, key pilot programs are already underway that are intended to showcase the benefits of a singular and focused vision for customers.
More information about the company's rebranding efforts can be found at www.VarsityBrands.com.