Headsweats has partnered with Loudmouth Golf to launch a new line of hats featuring the company's bold and brash designs.
Debuting to the trade at The Running Event in December 2014 and officially to the public in January 2015, the new Loudmouth Collection will introduce outrageously fun color and pattern options unseen in the technical headwear market to date.
All products in the new Loudmouth collection will feature Headsweats proprietary Eventure Woven fabric in a variety of Loudmouths signature wild patterns and striking colors. Styles will include Headsweats top-selling Supervisor, Performance
Podium Hats, Performance Trucker Hats and
Performance Headbands, giving athletes more opportunities to express
themselves with their headwear. The collection will retail for $20 –
$24.
We want Headsweats fans to be able to
express their unique style while training, racing and during everyday
activities, says Headsweats founder Alan Romick. The addition of
Loudmouths patterns and colors to our lineup of performance
headwear gives Headsweats fans even more opportunities to stand out
above the crowd.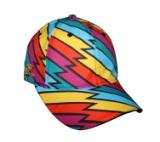 Loudmouth is known for its bright, patterned clothing that includes everything from collegiate logos and colors to pink flamingos, paisley prints and the Captain Thunderbolt pattern shown on the Headsweats Performance Podium hat shown to the left. Loudmouths partnership with Headsweats will allow both companies to offer a more expanded collection of products to an already dedicated fan base, as well as new fans who like to have a little fun expressing their true colors.
We are very happy to have partnered with industry leader, Headsweats, to produce this new line of high-performance headwear, says Loudmouth President, Dennis Green. This collaboration will introduce our brand to a whole different market of endurance athletes while also offering a fun new product to our existing golf customers.
Headsweats Loudmouth collection can be seen at the upcoming trade shows:
The Running Event in Austin, Texas, December 2-5, 2014-Headsweats booth 1116
PGA Show January 21-23, 2015-Loudmouth booth 4040
Winter Outdoor Retailer in Salt Lake City, Utah, January 21-24-Headsweats booth 38161
Both companies will also sell the headwear to consumers beginnning January 2015 at www.headsweats.com and www.Loudmouth.com.