Head NV saw continued strength in its key Winter Sports segment drive healthy growth for the three months ended Sept. 30, although profit slipped significantly as a result of certain expenses.

Net revenues for the ski and tennis specialist increased 6.7% in euro terms to €98.4 million ($127 mm) from €92.2 million ($132 mm) in the year-ago period, due mostly to increased sales volumes in the Winter Sports segment and the strengthening of the U.S. dollar against the euro.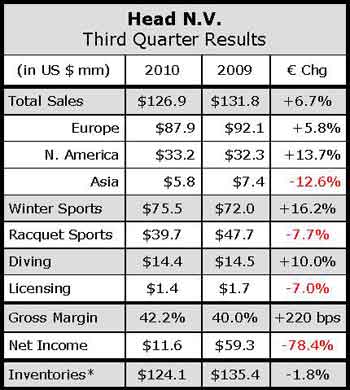 On a regional basis, sales to Europe improved 5.8% in euro terms to €68.2 million ($88 mm) on strong sales from Austria, which improved 8.9% to €47.8 million ($62 mm) and Italy, which grew 7.5% to €6.8 million ($9 mm). Sales to Austria, which houses one of the company's two headquarters, accounted for more than 48% of the company's total sales fro the period. Gains in these key countries offset the company's Other region, which dipped 4.5% to €13.6 million ($18 mm).
For the North America region, revenues improved 13.7% to €25.7 million ($33 mm) from €22.6 million ($32 mm) a year ago. In terms of U.S. currency, sales to North America edged up 2.7%. Sales to Asia, which accounted for less than 5% of total revenues, dipped 12.6% to €4.5 million ($6 mm) compared to the year-ago period.

By business segment, the company's Winter Sports division, which includes the Head and Tyrolia brands, surged 16.2% to €58.5 million ($76 mm) from €50.4 million ($72 mm) a year ago on higher sales volume of skis and ski boots. Sales to the Winter Sports division accounted for almost 60% of total revenues for the quarter.
Commenting on the nine-month year-to-date results, Head management said the 09/10 winter season started with early snow in Europe and in some parts of the U.S. but late snow in Japan. Ski sales for 09/10 in Europe were flat compared to 2008 and "significantly down" in Japan and Canada. The company added that favorable snow conditions all over the world from January on led to positive sell-through since the beginning of the calendar year.

Following industry practice, the company said it begins to receive orders from its customers in the Winter Sports division from March until September, during which time the company books roughly three quarters of its orders for the year.

The company will typically begin shipment of skis, boots and bindings in July and August, with the peak shipping period occurring from September to November.

Management said there has been a "significant trend" towards skiers renting equipment instead of buying. Based on bookings, the company believes 2010 Winter Sports sales will be ahead of 2009 numbers.
For the Racquet Sports division, which includes the Head and Penn brands, sales dipped 7.7% to €30.8 million ($40 mm) from €33.4 million ($48 mm) a year ago due to lower sales volumes of tennis racquets, which was partially offset by the strengthening of the U.S. dollar against the euro.

For the 2010 year-to-date period, management noted that global tennis ball sales were "slightly higher" than the comparable 2009 period. In the U.S., racquet sales by volume "slightly declined" but were up in value due to the launch of high-end racquets. Europe saw growth in both volume and value while Japan declined slightly in units and value. Tennis ball sales were up slightly in all regions of the world except for Japan where they slightly declined.

Looking ahead, the company estimates the global tennis racquet market will be flat in volume but up in value as of the end of the fiscal year.
For the Diving segment, which includes the Mares brand, revenues improved 10.0% to €11.1 million ($14 mm) from €10.1 million ($15 mm) in third quarter 2009, but management said year-to-date numbers are flat to declining due to bad weather in the European business in the front half of the year and high unemployment in the U.S. Management added that diving equipment at higher price points will continue to suffer more than soft goods.
The company said it believes the Mares brand has gained market shares in key European markets, including Germany, France and Spain as a result of product launches.

Licensing, which accounted for just 1% of total sales, slipped 7.0% to €1.1 million ($1 mm) compared to €1.2 million ($2 mm) a year ago.
Gross margin increased 220 basis points to 42.2% of sales due to improved revenues and favorable product mix. SG&A expenses increased 5.6% to €23.1 million due to higher commissions and departmental selling costs. The resulting net income narrowed to €9.0 million ($12 mm) from €41.5 million ($59 mm) a year ago.