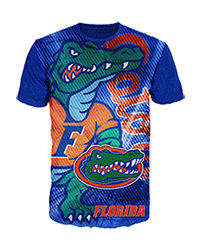 HanesBrands entered into a definitive purchase agreement to acquire Knights Apparel, a leading seller of licensed collegiate logo apparel in the mass retail channel.
Knights Apparel, headquartered in Spartanburg, SC, is a
designer and supplier of licensed sports apparel. The company is a
licensee for 400 of the largest U.S. colleges and universities as well as the National Hockey
League, often under arrangements providing a level of exclusivity. Knights Apparel sells products across all categories, including
t-shirts, fleeces and polos, for men, women, and youth/infant/toddler
consumers. Its products are primarily sold to big box retailers.
Hanes' Gear for Sports division is already a leading seller of licensed collegiate apparel in university bookstores, utilizing the company's strong brands, company-owned apparel production, and company-owned graphic attribution and embellishment facilities.
Hanes is purchasing Knights, which is forecast to have sales of approximately $180 million for the full-year 2015, from affiliates of Merit Capital Partners. The all-cash transaction values Knights at approximately $200 million on an enterprise-value basis, or approximately 8 times expected full-year 2015 EBITDA. The post-synergy multiple is expected to be approximately 4½ times EBITDA. Hanes intends to fund the acquisition with cash on hand and short-term borrowings on its revolving credit facility.
The acquisition, which is subject to antitrust review and other customary closing conditions, is expected to close early in the second-quarter 2015. Assuming an early second-quarter close, the acquisition is expected to add to the company's previously stated presplit 2015 financial guidance by approximately $160 million in net sales, approximately $18 million in adjusted operating profit excluding actions, and approximately 10 cents a share to presplit adjusted earnings per share excluding actions. Within two to three years when full synergies and benefits are realized, the purchase of Knights is expected to contribute approximately 30 cents of presplit annual adjusted EPS.
"This is an exciting acquisition opportunity to leverage our existing Gear for Sports licensed collegiate apparel business, our expertise and size in the mass retail channel, and our low-cost global supply chain," Hanesbrands Chairman and Chief Executive Officer Richard A. Noll said. "Combining the two companies is a great way to create value."
With the addition of Knights, Hanes expects to be an even stronger growth partner for licensed and graphic apparel with more than $450 million in combined annualized sales. The combination will create a best-in-class supplier of licensed collegiate apparel that has both low-cost and quick-turn supply capability and is primarily supported by company-owned garment production and graphic embellishment facilities.
Founded in 2001, Knights has approximately 210 employees with primary offices and a distribution center located in Spartanburg, S.C. The company buys all of its apparel from outsourced contractors and sends those garments to outsourced embellishment facilities. The integration of the Knights business into Hanes' supply chain should yield significant savings and efficiencies.
"Knights Apparel has a tremendous business model and a highly talented team of employees," said John T. Marsh, HanesBrands group president, global activewear. "With Knights Apparel added to our existing Gear for Sports collegiate bookstore business, we are building a powerful licensed college apparel business that we can leverage with our substantial capabilities in apparel production, graphic design and graphic printing."
When the acquisition is closed, Knights Apparel Chief Executive Officer Joe Bozich will join Hanesbrands.
"HanesBrands is the perfect partner and owner for Knights Apparel," Bozich said. "The company understands our business and will make us more valuable to our licensor and retail partners, allowing us to provide best-in-class products, brand management and service.
Knights Apparel's Alta Gracia business subsidiary,
a fair trade/socially-conscious clothing brand, will not be a part of
the transaction and will remain independent. Alta Gracia will be a
stand-alone entity owned by certain of the current Knights Apparel
ownership group. "Our goal has always been to give Alta Gracia an
opportunity to become an independent and sustainable business," said
Donnie Hodge, president of Knights Apparel. "Because of the partnership
and support we continue to receive from our university and retail
partners, we believe Alta Gracia is well positioned for growth in the
market for ethically responsible products."
Goldman, Sachs & Co. is serving as exclusive financial advisor to Hanes. King & Spalding LLP is serving as legal counsel to Hanes. Guggenheim Securities, LLC acted as exclusive financial advisor to Knights Apparel and Vedder Price PC served as legal counsel.