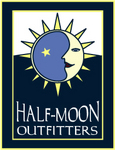 Half-Moon Outfitters presented a check in the amount of $8,000 to the SC Chapter of The Nature Conservancy. It represents Half-Moon Outfitters largest annual donation yet to the Nature Conservancy. The donation comes from the proceeds from the Banff Mountain Film Festival World Tour stops that Half-Moon Outfitters hosts in South Carolina.
On March 23rd, 25th and 26th in Columbia, SC and Greenville, SC, Half-Moon Outfitters hosted the Banff Mountain Film Festival World Tour stops. This years tour featured a collection of the most inspiring action, environmental, and adventure films from the Banff Mountain Film Festival. Over 1,500 audience members were able to experience an exhilarating and provocative exploration of the mountain world while helping The Nature Conservancy at the same time.
We host Banff screenings in Columbia and Greenville so that outdoor enthusiasts in the Palmetto State can enjoy the festivals highly creative adventure films. We donate proceeds to The Nature Conservancy because it is instrumental in protecting the lands and waters that make outdoor recreation healthy and accessible, said Half-Moon founder and owner Beezer Molten. We are especially pleased with this years turnout, the proceeds of which are a record for this event.
The Nature Conservancy is delighted to receive this generous donation and sincerely appreciates Half-Moon Outfitters ongoing support of our work in South Carolina, said SC Chapter Executive Director Mark Robertson. Half-Moon is always ready to partner with us, not just via Banff but throughout the year. Were also excited about Half-Moons soon-to-open new Columbia store, which is being renovated commensurate with LEED standards.
Half-Moon Outfitters is especially grateful to all the sponsors who helped to make the festival such a success including Gore-Tex, The North Face, USC Campus Recreation Outdoor Recreation, Coffee & Crema, Community Tap and The Great Escape.