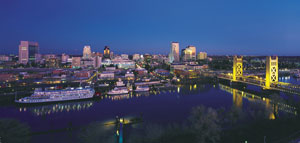 In a move more than a year in the making, Gregory Mountain Products will relocate to Sacramento, CA in early 2008. The move – and Gregory's separation from its sister company, Bianchi International – will allow it the freedom to operate as an independent brand.
Gregory President John Simons said, "It's been clear to us over the last year that as Gregory moves into its fourth decade, we really needed to be a completely autonomous brand moving forward to focus best on our mission. And as we began planning that transition, it also became clear that we needed to be located in an environment that makes the most sense for the brand and the team at Gregory," Simons said. "After a year-long search, Sacramento was the obvious choice for us on number of levels."
With access to outdoor activities, a vibrant city with cultural and arts offerings, good schools and two universities, Sacramento makes sense for Gregory as a place that more accurately reflects the values of the company and its employees. It also will help the company retain existing employees and attract new ones, as well as provide a home base that is more in line with employee lifestyles.
Sacramento is located near mountains, rivers and snowsports, which helps the design team more easily test packs and other new products in the environments for which they are created.
Sacramento is considered one of the most sustainable cities in the nation. It currently has 4.2 million square feet of LEED-certified construction. It is also in the process of finalizing a city-wide Sustainability Master Plan with goals for energy independence, reduced use of fossil fuels, improved energy efficiency, incentives for green construction, and better air quality, among others. As a city focused on sustainable initiatives, Sacramento welcomes businesses rooted in economies such as the outdoors. It also has a vibrant business community and provides more immediate access to a major airport for business travel.
Sustainability is an important company value for Gregory, so as part of its move to Sacramento, it is working with LEED-certified architects to design its new headquarters. It is currently assessing ways to employ design components such as reclaimed wood, recycled carpets, reclaimed and refurbished office furniture, and other structural elements, as well as following LEED design standards for things such as air quality, energy conservation and general construction materials.
Sacramento has excellent public transportation, and Gregory's new headquarters is located near a light-rail system station, providing opportunities for employees to commute without cars. An extensive network of pathways also provides employees the opportunity to commute via bicycle.
The Sacramento headquarters ensures Gregory remains in its home state.
All Gregory employees at its current home base in Temecula, Calif., were offered the opportunity to move with the company. Roughly two-thirds of the staff, including all upper management, the entire design team, and all employees in sales and marketing, will make the move. Company founder Wayne Gregory will continue in his role on the design team. Gregory is actively recruiting for positions created as a result of the move.
Because of the timing of the move, which will commence in early 2008, Gregory will not attend the upcoming winter Outdoor Retailer show, but will return to Outdoor Retailer for the summer 2008 show. Due to missing Outdoor Retailer, the sales team will be placing more emphasis on being in the field visiting dealers and attending regional shows in January and February.