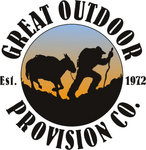 Great Outdoor Provision Co. announced that Rich Chisholm will be taking over the role of technical buyer for the company, while veteran technical buyer Bob Sears moves into a new role under the title "Spec Ops."

Chisholm is a world class climber and enthusiastic backpacker who is committed to products that make the outdoors safer, easier to access, and more fun. He is also a seasoned climbing buyer and looks forward to adding additional hardgoods to his product mix.
Great Outdoor Provision Co. also announced that Darren Schwartz will serve as the new manager of the Winston-Salem store where Rich Chisholm once served. Darren has been with Great Outdoor Provision Co. for nearly two decades. He is an innovative and effective leader with proven management skills and applying those most recently in Winston-Salem where he takes on the position of manager with the full support of his staff.
This spring marks the 40th birthday of the retailer, which operates seven outdoor specialty stores in North Carolina.

"Forty years in the stern seat is quite a ride," said Tom Valone, owners of Great Outdoor Provision Co. "What makes this old Mule grin is that we've paddled hard, we've navigated well, and most of all, we are still enjoying the trip. These changes assure that our next 40 years will be as strong and prosperous as the last."