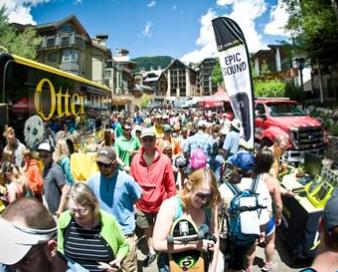 Backed by their new owner, the Costa and Native eyewear brands will be among the outdoor brands making their first appearance at the GoPro Mountain Games in Vail next month.

The Vail Valley Foundation, which organizes that annual event, said the games are shaping up as the biggest ever thanks to GoPro, which took over the title sponsorship of the event in 2013. The games are scheduled to take place in Vail June 5-8.

"GoPro truly helped elevate the Mountain Games last year, raising overall awareness of the event on a global scale via their publishing platform and partnership," states Michael Imhof, senior vice president of sales and operations for the Vail Valley Foundation. "Now that they've got a year of experience under their belt, the team at GoPro is really committed to making this the best outdoor festival in the world with bigger on-site activation, top music talent,
The Vail Valley Foundation estimates the GoPro Mountain Games drew more than 3,000 athletes and 50,000 spectators in 2013.
more world-class athletes from their roster and more social media promotion."
New to the event is Native Eyewear and sister brand Costa, which were acquired for $250 million in cash in November, 2013 by Essilor International, a French optics company that reported sales of $2.35 billion in North America. Native, the more mountain oriented of the two brands, will have a strong presence at the event and Costa will be title sponsor of the new "Costa River Town" neighborhood inside Gerber Gear Town. Costa and Native will feature their latest sunglasses perfect for adventures on and off the water. 
Costa River Town will showcase daily free kayak & SUP clinics, morning SUP yoga, free fly fishing casting clinics and daily cocktail hours.
Another new brand partner at the event is Vasque, which is the title sponsor of the 10K Spring Run Off trail race, part of the Jack Link's Beef Jerky Ultimate Mountain Challenge and one of the biggest and toughest 10K races in the country. LifeProof is also joining the GoPro Mountain Games as the presenting sponsor of the Gibbon Slackline World Cup event.
Returning to the GoPro Mountain Games are longtime sponsors Eddie Bauer, Thule, GNC, Eukanuba, Gerber, Vail Resorts, Subaru, Jack Link's Beef Jerky, Vibram, Goal Zero, and many more.