Golfsmith International managed to narrow its losses in the first quarter, but top-line sales and comp store sales suffered from a significant drop in ticket prices as the consumer continues to scale back discretionary purchases in response to the economy.


In a conference call with analysts, management said an 11.7% drop in same store sales in the quarter was largely due to falling average ticket prices, which have had a notable impact on sales of iron sets and other big-ticket categories. Likewise, management noted that the club-making segment continues to struggle, continuing a trend that has been ongoing for several years.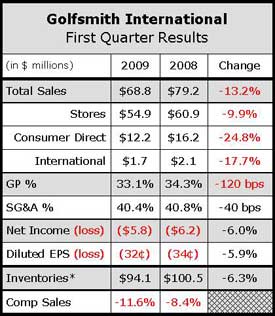 Declining margins reflect a higher-than-normal clearance level of inventory and weakness from apparel. Margins, which fell 120 basis points, were also impacted by higher seasonal markdowns, price repositioning of used clubs, and a change in estimate related to the classification of vendor income earned from cooperative vendor programs.

To combat a soft market, Golfsmith launched several promotions and implemented cost-cutting measures in various factions of the business, including cutting the number of catalogs shipped to club makers and consumers and reducing circulation of catalogs. Management said money saved from catalog operations was being reinvested into the retail and Web marketing channels. SG&A expenses declined 40 basis points to 40.4% of revenues as the company cut advertising funding. SG&A also included a $500,000 non-recurring charge for severance associated with the departure of the company's former CFO.

Marty Hanaka, chairman and CEO of Golfsmith, said strong sales generated from drivers had been largely offset by weakness from iron sets, where average ticket price is off by about 10%. However, he remained optimistic as the busiest quarter for the industry kicks off in Q2. Hanaka added that the industry has seen significant structural changes to off-course golf retail, including a 6% drop in doors at both national and regional levels, along with 16% fewer doors among "mom-and-pop" retailers. He said he expects this to continue throughout 2009, and added that "healthy companies like Golfsmith" will benefit from fewer competitors.

For 2009, the company plans to improve margins by continuing to improve labor utilization, mark-down utilization and merchandising initiatives that include SKU count reduction. The company predicted a 5% reduction in inventory at the end of 2009.