Anyone who has played a round of golf knows the importance of sunglasses. They come in all shapes, sizes, lenses and frames. But if you get on the course and have the wrong shades you'll be miserable, and you'll probably just be looking forward to a cold beer at the end of the round.

We're sharing three things to consider when you shop for sunglasses before you head out to play. The first is full wrap around the eyes and the taller the frame, the better. Coverage is key to block out UV from all sides and if you wear progressive lenses, you have to have height to see whether you're looking down at the ball or trying to find it in the tall grass.
And contrast lenses. It's just like skiing. The more contrast, the greater depth perception to read the green. Third, rubber on all the right touch points—bridge of your nose, temples and if you can afford adjustable nose pads, get them. There's nothing more annoying than glasses that just won't stay put.
Take a look at the curated collection below that offers all of the above. And, take heart. Your next round of golf, with the right shades, could be your best.
Nike … performance, lifestyle and now, optical eyewear. This year, Nike came out with a golf sunglass collection with what they call Nike Course Tint designed to block sunlight with a frame that contours to your face. And the new tint balances light that comes straight to your eyes and intensifies colors to read the green and amplify the white of the ball. Nike added an air pocket on the temple arms for comfort.
"Much like apparel and footwear, eyewear is essential … we're excited to introduce a lightweight collection that offers innovative performance benefits in a variety of frames designed for everyone". — Steve Tripi, Marketing Director, Marchon Eyewear, Nike Vision Licensee. Here's the Maverick Paul Casey, lead photo, wore to win the Valspar Championship. Watch the video below.

Oakley Flak 2.0 XL with Prizm … When you think Oakley, you think sunglasses. Prizm is the new "revolution" in lens optics from the company. The technology transmits light and the result are colors that come through the lens at maximum contrast. The engineering gives you a lens of amazing clarity when the sun hits the frame so when you're playing the green, you can see exactly where your ball is. Think of it as high def in a lens. Then there's the term Unobtanium—short for secure grip. This is serious connection. Your glasses are not going to move from swing-to-swing.⇓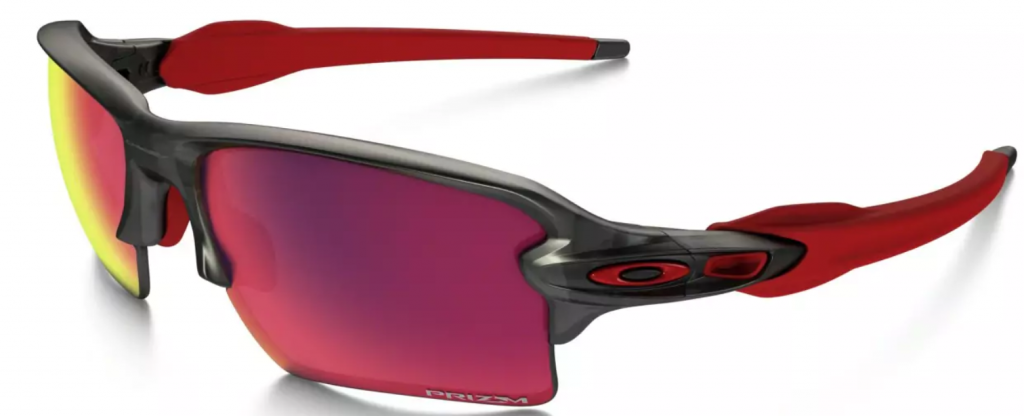 Maui Jim …you can't talk about golf sunglasses without talking MJ. The Ho'okipa, with rubberized temples, ear pads and nose pieces, a lightweight fit and rimless design, what's not to like? Add MJ's High Transmission lenses and you have glasses that enhance colors and contrast with amazing clarity. They're a game changer. ⇓

"See it Better. Read It Better." That's what Under Armour says about the UA Tuned Golf Big Shot. When you put a pair on, you immediately see no distortion from edge to edge. UVA/B/C block is inherent in the lens technology. The frames are made of Armour Fusion, so they're strong. There's grip around the temples to conform to your head without squeezing, and if your glasses have a manufacturing defect, UA has a lifetime guarantee replacement policy. What's not to like? ⇓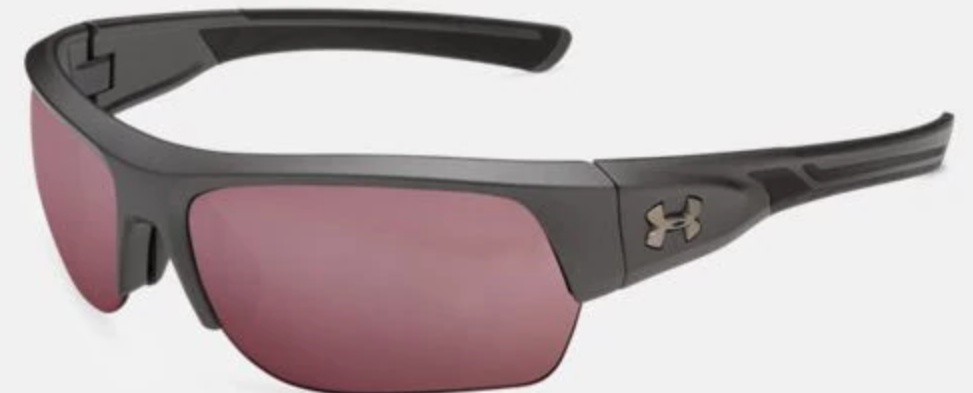 Aggressive style and simplicity. Tifosi Elder SL is more than ready for your next round of golf. The frames are made of Grilamid TR-90, a homopolyamide nylon. Those big words mean the frames have an extremely high bending strength, low density and high resistance to chemical and UV damage. Then there's the Hydrophilic rubber ear and nose pieces so your glasses won't budge. And the adjustable ear and nose pieces customize to your face so your comfortable. Lastly, there's the vented lenses. The glasses are made to improve air circulation around your eyes, so if it's hot on the course, your glasses won't fog up and mess up your game. That's pretty sweet. ⇓

There you have it. Five sunglasses to consider buying before your next round of golf. There are endless colors and options from these sellers and other eyewear brands for men and women, so be sure to do your homework. And most, if not all, manufacturers offer prescription lenses. So leave your regular sunglasses on the car dash and walk on the course with a pair of golf-specific sunglasses. Chances are high you'll improve your scorecard.
Photos and video courtesy of the brands mentioned in this post.